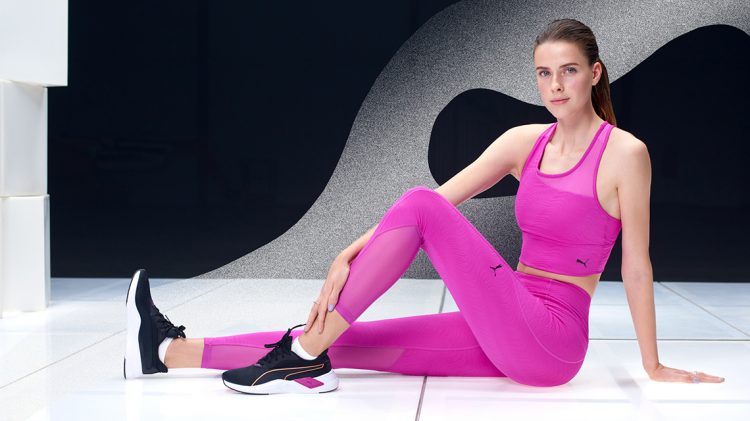 Our Q1 results:
A strong start
PUMA reports strong Sales and EBIT growth in the first Quarter
April 27, 2022
PUMA reports strong Sales and EBIT growth in the first Quarter
April 27, 2022
We just published our financial results for the first quarter of 2022 and are happy to report a good start into 2022. Despite of all the obstacles and uncertainties, we achieved a sales growth of 20% to € 1,912 million and an EBIT growth of 27% to € 196 million in the first quarter. The demand for our products was high, both from retailers and consumers, and our operations people were able to move enough product through a tight supply chain to partly fulfill this increasing demand. This underlines the continued momentum of the PUMA brand in a difficult market environment.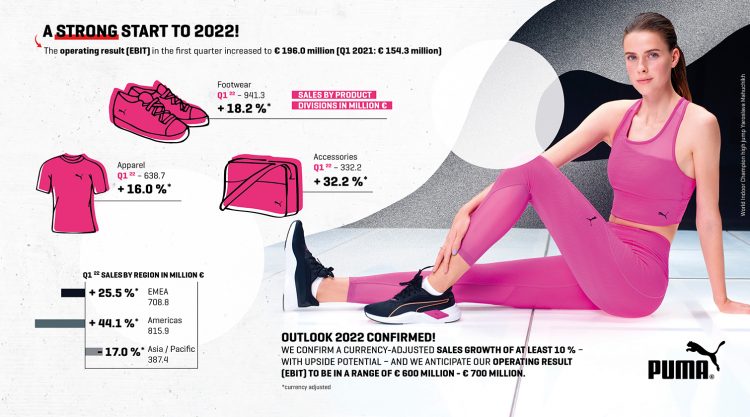 I am very happy to see that the growth is coming from all product divisions and all business units. We have had the highest growth rates in the performance categories like Running, Football, Basketball and Golf, which confirms that our investments into innovation and marketing are paying off. Based on such a strong first quarter, we would normally raise our outlook for the full year. But given the increased uncertainty in the world, we have decided to stick to our initial outlook from the beginning of this year. The COVID-19 outbreak in China, the crisis in Ukraine, a very tight freight situation and inflationary pressures are all uncertainties that force us to remain very flexible and to manage our business as well as possible in the short-term without hindering PUMA's mid-term momentum. We will also continue to prioritize the health and safety of our people and not save on anything here. Now, this is especially important for all our employees and their families in Ukraine. The PUMA Family means more than profitability."
Our Sales increased by 19.7% (currency adjusted) to € 1,912.2 million. Americas reported the strongest sales growth of 44.1% (ca), driven by continued high demand for the PUMA brand in the North American and Latin American markets. Sales in EMEA were up 25.5% (ca), reflecting strong growth across all key markets in Europe. Sales in Asia/Pacific declined 17.0% (ca) due to the current market environment in Greater China resulting from COVID-19 related restrictions and geopolitical tensions. All product divisions grew double-digit with Footwear being up 18.2% (ca), Apparel 16.0% (ca) and Accessories 32.2% (ca). The growth was driven by a strong demand for our Performance categories like Running & Training, Teamsports, Golf and Basketball, as well as for the Sportstyle category.
PUMA's Wholesale business increased by 23.3% (ca) to € 1,528.2 million and the Direct-to-Consumer (DTC) business was up by 7.1% (ca) to € 384.0 million. Sales in owned & operated retail stores increased 21.3% (ca) while e-commerce declined 13.2% (ca) as we continued to prioritize our retailers when supply was limited and due to the current market environment in Greater China.
OUTLOOK
The year 2022 has again started with a high level of uncertainty in the global business environment. Several governments have implemented regional or country-wide restrictions due to a record high of COVID-19 infections, which continue to impact our value chain from manufacturing to retail store operations. The overall supply chain situation remains challenging due to port congestions, limited shipping capacities and continued freight rate increases. The crisis in Ukraine is having a direct negative impact – leading to lost sales and EBIT – and an indirect impact through the general tense geopolitical situation and increasing uncertainty worldwide. As a result, we continue to see inflationary pressures in all markets.
In line with the previous years, we will continue to manage the challenges short-term without hindering the positive mid-term momentum. The strong and profitable growth in the first quarter, a strong orderbook, an exciting product line-up as well as very good feedback from retailers and consumers make us confident for the mid-term success and growth of PUMA.