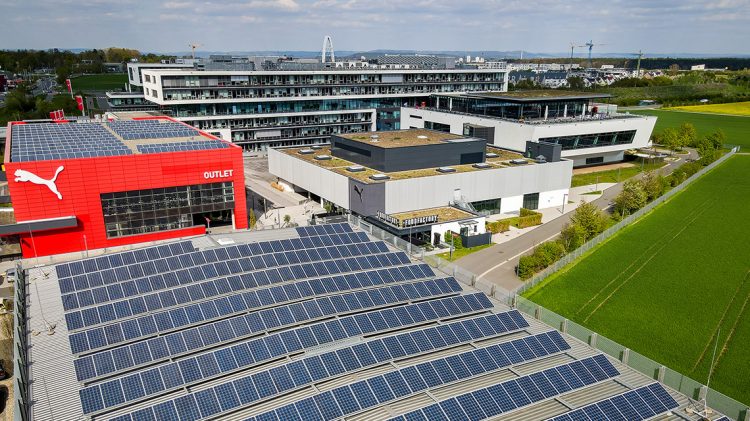 Top marks for PUMA's
sustainability efforts
PUMA ranked most sustainable brand on Business of Fashion Sustainability Index 2022
June 1, 2022
PUMA ranked most sustainable brand on Business of Fashion Sustainability Index 2022
June 1, 2022
PUMA is the most sustainable brand in the industry according to a report by Business of Fashion, which ranked the 30 largest listed companies in the fashion industry according to their efforts in categories such as emissions, transparency, water&chemicals, materials, worker's rights and waste.
PUMA occupied the top spot in 2022, Business of Fashion said, noting that while the company had leading scores for worker's rights, water&chemicals and transparency, the largest leap was made in emissions. PUMA scored 49 points out of a 100, ahead of Kering with 47 and Levi Strauss with 44 points.
Overall, the report pointed out that the performance among fashion brands still needed to be sharply improved, as the average score in the industry was just 28 out of a 100. Companies have to up their game to achieve critical sustainability goals by 2030, Business of Fashion added.
We welcome the recognition in the Business of Fashion Sustainability Index and will take our leadership position as an encouragement to take the next step on our sustainability journey. We agree with the conclusions that much remains to be done to bring our industry in line with the Goal of the Paris Agreement on Climate Change as well as the United Nations Sustainable Development Goals.
Last month, we announced that we managed to cut our own carbon emissions and those coming from our supply chain between 2017 and 2021. Our own carbon emissions and those from purchased energy dropped by 88% in 2021, compared to the company's 2017 base year, while emissions in our supply chain were down 12% in the same period.
We achieved this by purchasing 100% renewable electricity through renewable electricity tariffs and renewable energy attribute certificates, moving our company's car fleet to electric engines, using more sustainable materials and implementing efficiency improvements at a factory level.
We have longstanding programs with our core suppliers to make their factories more energy efficient and we are helping our manufacturing partners to phase out coal and install renewable energy sources such as solar power.
To be transparent about our supply chain, we published our full list of Tier 1 suppliers (the factories that make our finished products) including our most important suppliers in Tier 2 and selected Tier 3 suppliers.
In water&chemicals, we published wastewater tests for our suppliers with wet processing and showed improved compliance with wastewater industry standards such as the ZDHC Wastewater Quality Guideline.
Workers' Rights continue to be an important issue for PUMA, a topic we first committed to in our Code of Conduct in 1993. We also work together with the Fair Labor Association and the ILO Better Work Program to improve working conditions and we collect and publish wage data and other social performance indicators in our annual report.
All of these efforts are part of our Forever Better sustainability strategy.
We are happy that our work in sustainability is being recognized but we will not stop here and work hard to make further progress. That is what being Forever Better is all about.