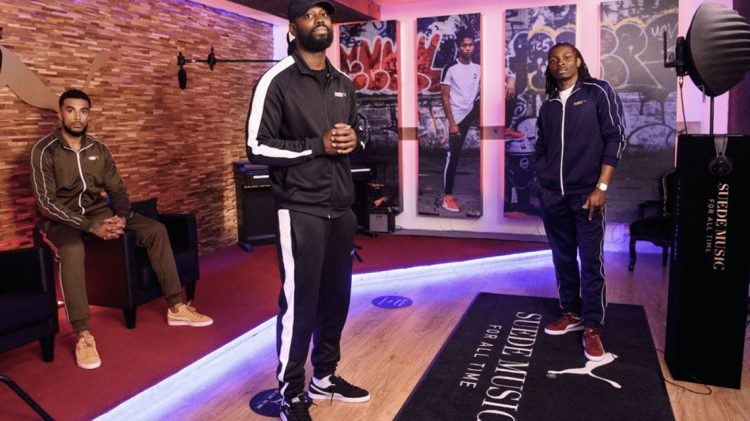 The beats
are
on!
PUMA launches SUEDE Music #ForAllTime
December 10, 2020
PUMA launches SUEDE Music #ForAllTime
December 10, 2020
To celebrate the
2020 edition of our PUMA SUEDE

, we have teamed up with musician Ghetts to launch the

Suede Music Studio

in partnership with Spotify. The London-based studio is a music platform from PUMA, available during the COVID-19 pandemic for 

up & coming artists

requiring a space to make music.

It's been a tough year, also for musicians – no music venues, no live performances, no touring, no budget. However, this leads many artists to be more creative than ever. In order to support the music scene, we opened the Suede Music Studio. The studio is based in West London and pays homage to PUMA Suede's connection with music and culture, focusing on emerging talent in the UK by providing creatives with a new recording space. Our Suede Music Studio partners with legendary East London lyricist Ghetts, who mentored and partnered up with two up-and-coming artists from his hometown. Over the last weeks, several artists, such as: Big Tobz, 3 Shots of Tequila and Jaz Karis have joined Ghetts on the list of artists who have enjoyed creating and making music in the Studio. Suede Music Studio stays open through to April 2021 with the likes Shaybo, Remel London and No Signal scheduled to use it to create and release content for us all to enjoy. Importantly, we are also supporting the community by giving aspiring young artists access to studio sessions and a music mentor. The studio tracks and playlists created by the artists are available on Spotify. 
Music created in the Suede Music Studio is available on the Suede Music Spotify playlist by PUMA.
As a next step, we are also considering to expand throughout Europe and already started some activations with local artists outside of the UK.
Stay tuned for more news and music!
View this post on Instagram
View this post on Instagram