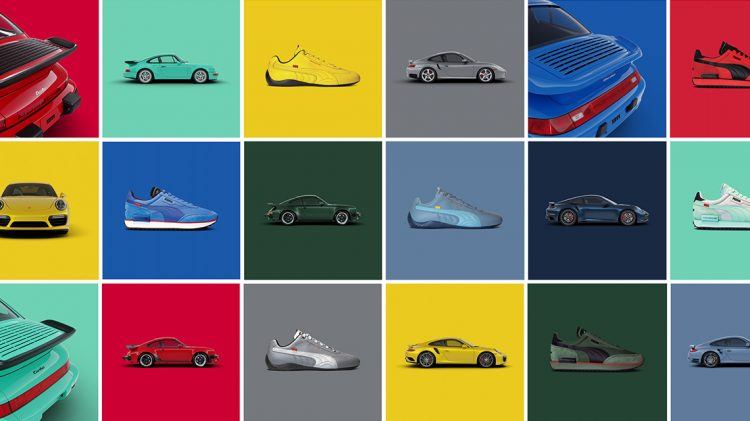 They
went
fast!
PUMA launched ICONS OF FAST with PORSCHE in just 2.7 seconds
November 23, 2020
PUMA launched ICONS OF FAST with PORSCHE in just 2.7 seconds
November 23, 2020
The
World's Fastest Sneaker Pre-Release

took place this month in only 2.7 seconds. The PUMA x Porsche collection

inspired by the 911 Turbo

is (almost) sold out in North America. These ICONS OF FAST are a collection of

eight different sneakers

, celebrating eighth generations of the famous 911 Turbo. The kicks are limited to 1000 units per color across all sizes.

This exclusive collection is only available in North America. One day before the official launch, a special pre-release on November 16 gave fans the opportunity to purchase the limited-edition sneakers early – but only if they're fast enough. The window to buy the sneakers was only 2.7 seconds, inspired by the 0 to 100 km/h (0 – 60 mph) sprint of the Porsche 911 Turbo. Main sales started one day later and only a few shoes are still available on either PUMA.com (North America), our PUMA NYC flagship store, selected Porsche Stores or on Porsche-design.com
Honour the sports car in an entirely new way
Generations of automotive enthusiasts have come to appreciate the heritage of the Porsche 911 Turbo. Establishing a new era in the 1970s, this icon set a benchmark for the sports car maker's top-of-the-line 911 variant for its entire production. When the first turbo model was unleashed in 1975, it was back than the fastest production car in Germany. So, it was just a matter of time until PUMA and Porsche would cross paths to create a limited and unique footwear line celebrating the legacy of the eight generations of the Porsche 911 Turbo – an ideal match to the PUMA mission "Forever Faster."
The Future Rider represents the first four generations of air-cooled 911 Turbos, Type 930 3.0 L and 3.3 L, Type 964 and Type 993. The Speedcat picks up the more recent Turbo variants, the Type 996, 997, 991 and 992.
View this post on Instagram