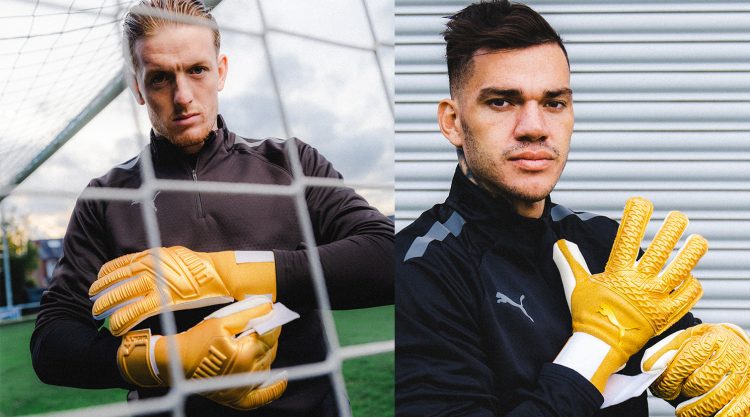 GOLDEN
GLOVES
PUMA HONORS EDERSON & JORDAN PICKFORD WITH SPECIAL GOLDEN GLOVE
November 23, 2021
PUMA HONORS EDERSON & JORDAN PICKFORD WITH SPECIAL GOLDEN GLOVE
November 23, 2021
As the football season kicks into high gear PUMA has celebrated Ederson and Jordan Pickford's pursuit of glory for the Premier League™ Golden Glove by creating special gold editions of the FUTURE Z 2 and the ULTRA Grip 1 Hybrid Pro. Both goalkeeper wore the personalised golden gloves during the Premier League match between Manchester City and Everton (3-0) at Etihad Stadium on November 21, 2021 in Manchester, England. Take a look at the gloves!
Ederson's custom gold FUTURE Z 2 gloves have been engineered for extreme comfort and optimal fit. The gloves feature a Latex Upper for optimal stability and enhanced punching with a duo super-soft 4mm Latex Palm for exception grip in all weather conditions. The FUTURE Z 2 has a specially modified Thumb Wrap for increased catching surface area and a Knitted Backhand for seamless construction and optimal fit.
Ederson with his golden glove at Sunday's Premier League match
View this post on Instagram
Jordan Pickford's Golden Glove edition of the ULTRA Grip 1 Hybrid Pro features 4mm Ultimate Grip Latex with an additional layer of cushioning on the palm for superior grip and provides optimal surface area for catching in all weather conditions. The gloves integrate a Latex Backhand for optimal stability and support when punching the ball and utilize a Latex Wrist Strap for wrist lockdown with a lightweight textile material for lightweight comfort.