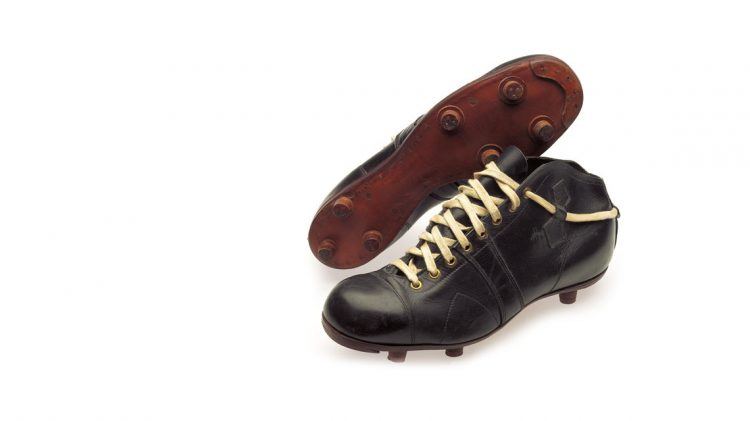 PUMA Archive
The Birth of the
screw-in Studs
PUMA at the forefront of football history
July 20, 2015
PUMA at the forefront of football history
July 20, 2015
Weighing less than an iPhone, PUMA's new evoSPEED SL is about to write history as the lightest football boot ever produced. Compared to
the first PUMA ATOM

, that was more than four times heavier at 414 grams, it is hard to imagine that this bulky piece of footwear was once a similar sensation. Nevertheless, it took more than 50 years until the boot was granted the glory it deserves.

It was in 2006, when Germany was buzzing with excitement to host the FIFA World Cup. Newspapers were filled with facts and stories about Germany's national football team. "Obviously, the surprising win of Germany in the 1954 World Cup final was mentioned in every single article", Helmut Fischer remembers. Along with that, Adidas was always referred to as the redeemer, who gave the team the sensational invention of screw-in studs – most likely the key benefit to win the final over Hungary. Since then, PUMA's competitor has always claimed to have been the first to mass-produce screw-in stud boots, which made it easier to adapt to several surface conditions.

"I have always doubted that story, because we knew that both brothers – Rudolf and Adolf – learned the studs patent from a German shoe maker in the 1930s, when they were still running their joint business," Helmut explains.
"So why should Rudolf have stopped working on this invention? According to contemporary witnesses, Rudolf presented his first prototypes at an exhibition in 1951, but we were lacking official documents to prove these facts."
However, this was to change shortly before the 2006 FIFA World Cup, when Helmut was updating his PUMA archive. He stumbled across an important document: An advertising poster of 1954 that proved that Helmut's assumption was right. "This is what it was like in Hamburg" read the headline and referred to the game that determined the German football championship that year. Besides the note "PUMA was again part of it!", there were also photos of Hannover 96 players in their PUMA screw-in stud boots BRASIL.
A total of eight of their eleven players wore them. For Helmut, this advertisement finally proved the successful use and triumphant reign of the PUMA screw-in stud boots in German football history: Hannover's win in Hamburg took place on 23 May 1954 – two months before the World Cup final between Germany and Hungary in Switzerland.
All in all just another argument for PUMA being ForeverFaster – today and back then.