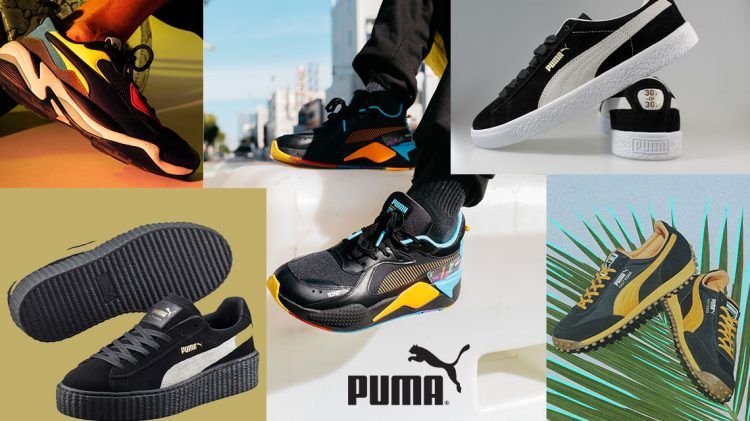 People at PUMA
A great source
of inspiration
from within
PUMA global creative director Heiko Desens about the past and future of streetwear
November 4, 2020
PUMA global creative director Heiko Desens about the past and future of streetwear
November 4, 2020
PUMA's global creative director
Heiko Desens

was interviewed by Elle Russia about major sneaker trends, favorite PUMA collaboration and his personal inspiration.
How do you see the future of the streetwear?
Heiko: First I would need to cluster streetwear in two big groups: Sportswear, which is more rooted in comfort, and workwear, which includes items such as jeans and utilitarian clothing. Those are the 2 key pillars of Streetwear and essentials for youth culture. As the majority of fashion consumers would like to stay and look young, the future of streetwear is great. If you look at the bigger structure of trends, one of the macro movements is convenience; this touches all areas of our lives like communication, food, travel, etc, but it also impacts our styling and fashion habits. Outfits these days need to be much more versatile and comfortable as people live a more transitional lifestyle… from work to sport to a great evening out and even through the increase of short city trips. Streetwear is convenient, but also the design and luxury elements of streetwear will be much more important in the future.
Can you name any major trends in the sneaker industry?
Heiko: We are coming out of a couple of years dominated by the 'dad sneaker' trend where PUMA had great styles such as the PUMA THUNDER and RS-X, but we do see a massive shift towards a more sleek and deconstructed look. Strongly influenced by 70's runners, those silhouettes feature more playful and warmer colors from back in the day. Our current PUMA Future Rider is a great example of this new trend.
What pair of PUMA sneakers should definitely be in the sneakerhead collection?
Heiko: The 'Made in Japan' edition of the PUMA Suede, from the 50 years of Suede, in purple leather with a yellow formstripe (collector's item).
PUMA x Rihanna Creeper in either all sand color or the black and white version (collector's item).
For every day, the new PUMA Future Rider Luxe all white. Amazing for all occasions!
What is your favorite brand collaboration?
Heiko: Currently I am amazed by Daniel Arsham's eroded PORSCHE and also his collab with POKEMON.
Looking back, PUMA X Ader Error was extremely cool! Looking forward into 2021 our collab PUMA X KidSuper will be super fun.
The personal style from our design talents always add the right amount of freshness and individuality.
Now many sports brands are rethinking archival sneaker models, why is this happening – it is a crisis of ideas or nostalgia for the past?
Heiko: I don't feel it is a crisis and brands who have an archive should always reference it. In the times of very fast cycle of trends and everything being always available, it is a great source of inspiration from within. It's authentic and creates a true yet unique look and feel.
At PUMA, our young design talents look into the archive and always build something new; something very individual and unexpected. The personal style from our design talents always add the right amount of freshness and individuality.
Which Instagram profiles inspire you, who do you actively follow?
Heiko: I am a great fan of Daniel Arsham and follow him because I love what he does and get inspired by his approach of mixing classics with pop art.
I follow ComplexCon for a moment of fun and distraction and 'Staying in with Alex' by Alexander Wang; those were my insta highlights during Corona.
Please, pick one PUMA model that will be relevant 20 years from now. Which one is it?
Heiko: Well, that's an easy one….PUMA SUEDE FOREVER!