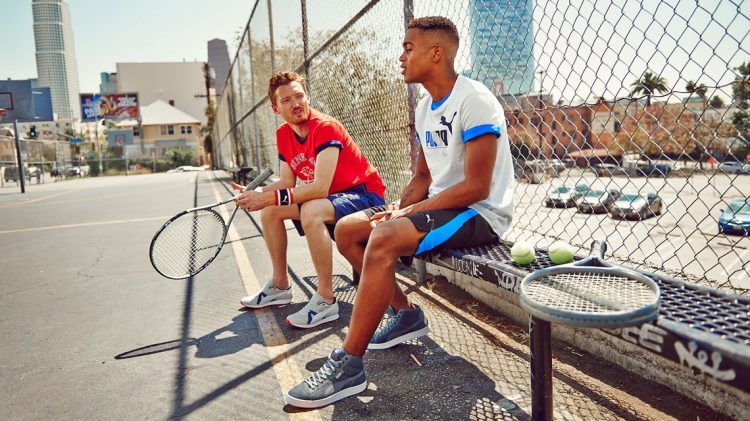 Keep 'em Dry
Fundamentals Goes Performance
July 14, 2014
Fundamentals Goes Performance
July 14, 2014
PUMA is heading back to its roots and repositioning itself as a true Sports brand.
So far so good. But what does our Fundamentals business do with this mission, that is neither Performance nor Lifestyle but somewhere in between?
Thorsten Krauss, Head of Product Line Management Fundamentals Apparel, reveals how his Business Unit succeeded in giving basic shirts a touch of Performance by keeping consumers dryer.
Thorsten, is there something that has changed in the Fundamentals Business Unit since PUMA's repositioning as a true Sports Brand has been announced?
Our Fundamentals products, that comprise basic t-shirts and polos, have always been nonperformance products. So they are not really designed for exercising, but rather for usage in everyday life.
But with PUMA's new positioning as a Sports Brand, we got our thinking caps on and brainstormed about how our Fundamentals products could be turned more into performance wear, so that they would give people an extra benefit. I am really proud to say that we successfully managed to provide exactly that in our SS15 collection.
What exactly turns a basic cotton shirt into performance wear?
We had a closer look at what we can learn from Performance that people would appreciate in a shirt or polo in their daily lives. The most basic feature is moisture wicking. Performance products are usually made from polyester materials that transport moisture, which is released by the body, to the outside. Of course, moisture transport is of advantage in both – sports and daily life, as you can imagine.
And regular Fundamental shirts do not provide this benefit?
At PUMA, we have the rule that Fundamentals products must be made of at least 50% cotton, while Performance can use 50% plus polyester cotton-blended materials in their pieces. Polyester does not absorb moisture while cotton fibers soak it up. A wet cotton shirt is much heavier because cotton keeps the moisture and does not release it. Therefore, moisture cannot come quickly to the surface of the clothing to evaporate. For this reason, cotton is not made for wearing during sweaty workouts, but it does come with a wearing comfort
So how did you manage to provide an extra benefit on the 100% cotton shirts?
We found a bio based wicking finish that is applied onto the cotton shirt. This enhances the cotton fabric to ensure moisture transport to the surface where it can evaporate. So basically, we have created moisture wicking cotton, something that is actually impossible by nature.
In our FUN-Segment, we are now able to turn our Large Logo shirts and graphic tees into performance cotton tees, which has been unprecedented in the market so far. We are the first able to do this and it is an amazing unique selling point for our Fundamentals shirts. They will then dry more quickly and remain dryer. This is a groundbreaking innovation, so watch out for our Fundamentals SS15 collection.