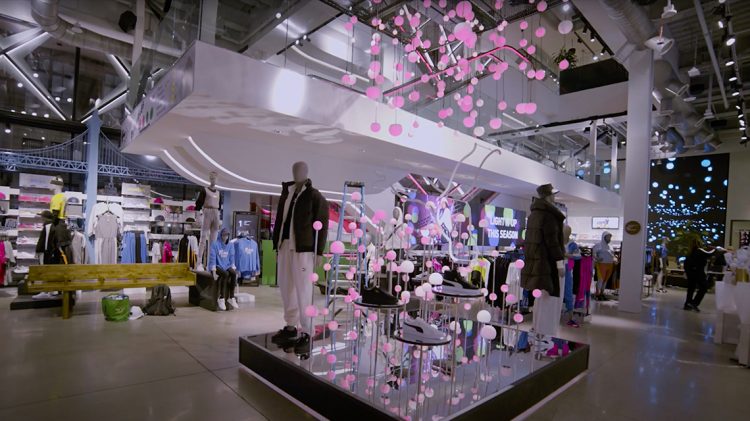 light
it
up
PUMA Flagship Store in New York shines in bright festively animated LED colors
December 23, 2021
PUMA Flagship Store in New York shines in bright festively animated LED colors
December 23, 2021
PUMA celebrates the holiday season and attracts everyone's attention by decorating its New York flag ship store on 5TH Avenue in festively animated LED-colors.
Having a flagship store on New York City's world famous 5th Avenue means doing something beyond what iss expected to engage the consumer in new and exciting ways. To set the mood for the holidays, PUMA decided to play with elements of the LIGHT IT UP campaign, taking inspiration from the illuminated string lights and the diffusion of color in the commercial deck. The external LED screens pulsing and playfully guiding the consumer towards the front entrance makes this decoration a multi media experience.  Once the consumer lifts one of the displayed products on our entrance landing zone, the light installation reacts by animating, creating a "dance" of light throughout the zone. Finally, at various key spots around the store, this same light installation is presented, carrying the LIGHT IT UP narrative through the entire space.
All in all, PUMA's 5TH Ave LIGHT IT UP experience continues to surprise and delight everyone that comes to the store and keeps guests coming back to see what PUMA is going to do next!