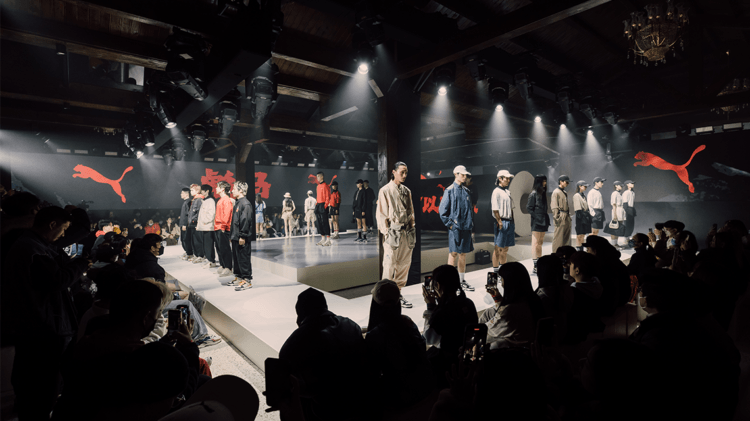 New Chinese Style
PUMA China Presents Chinese Culture Runway Show to Launch New Collection
February 23, 2023
PUMA China Presents Chinese Culture Runway Show to Launch New Collection
February 23, 2023
Check out our new collection dedicated to Ancient Chinese culture. PUMA China has fused sportstyle with China's historic four great inventions to create
"New Chinese Style".

The four great inventions of

paper making, gunpowder, typography and the compass

are the centre of the collection, with the paper making themed apparel the only one currently available and the others to be released in the coming seasons. The launch of the collection was celebrated with a Chinese Culture Runway show held at a historical landmark on Hengshan Road, Shanghai. Take a look!
The focus on the four great inventions pays homage to Ancient Chinese history and scientific milestones. PUMA drew inspiration from these inventions and added a modern sport twist to them. Titled "New Chinese Style", the new collection brings elegance to older, traditional clothing for a modern look. The collection aims to appeal to the Guochao trend: the desire to step away from Western culture and brands to incorporate Chinese cultural and style. Authentic Chinese elements can be found throughout the clothing, such as knots, embroidery, calligraphy and mandarin along the collars and in sneaker designs. Not only does the collection reflect Chinese culture, it also echoes the distinctive designs of the building the runway show was held in. The collection aims to appeal to youth, by bringing together old and new. Check out some of the fits! ➡️
The runway show, titled "To Be Proud", was held at night to allow the bright red luminous signs to shine bright, representing PUMA and paying tribute to the Chinese cultural treasure trove. The runway event put on a show with the latest collection by partnering with local street dancers and influencers.
We also welcomed individuals from the world of esports to the event! PUMA is in partnership with the best team in the esports premier Kings of Glory tournament in China, the King Pro League. For the event, PUMA invited two Chinese professional esports players in the league, Yi Duo and Jiu Wei, as well as Ling Er, Chinese host of the KPL International Championship Cup, to open the runway show and display the collection.
The paper making themed clothing is available at storefronts and flagship stores on Tmall, one of China's biggest e-commerce platforms.