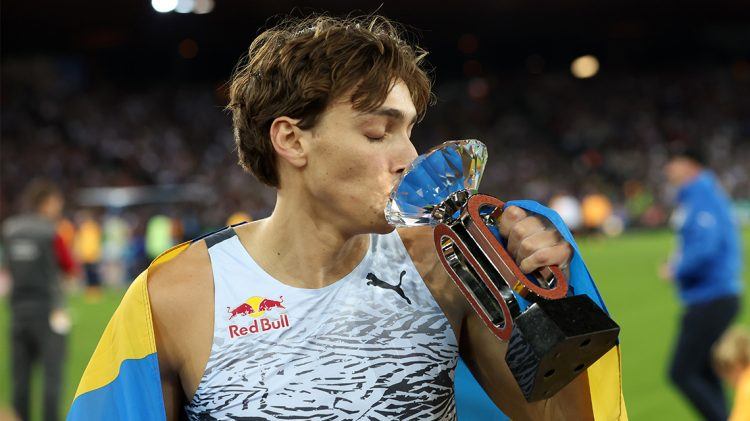 Diamonds
are forever 💎
PUMA athletes shine at the 2022 Wanda Diamond League final
September 9, 2022
PUMA athletes shine at the 2022 Wanda Diamond League final
September 9, 2022
Fans of athletics watch out! The world's best athletes were in Zurich, Switzerland this week for world class athletics action at the 2022 Wanda Diamond League Final. At the last Diamond league meeting of the season our top PUMA athletes really got going again. Here we name a few of the highlights! PUMA 2022 Diamond League winners are: Mondo Duplantis 💎(pole vault), Yaroslava Mahuchikh 💎(high jump), Gianmarco Tamberi 💎(high jump), Shericka Jackson 💎 (200m), Andy Diaz Hernandez 💎 (triple jump) & Emmanuel Korir 💎 (800m).
Congratulations from the entire PUMA fam!
He is born to fly! Mondo Duplantis once again provided the field highlight and improved his meeting record by a centimetre with a 6.07m leap, having wrapped up victory with a 5.91m clearance.💎 This is the second Diamond League trophy for Mondo. What a year for Mondo!
"In any competition, on any given day, I think I should be able to jump six metres. Same goals next year. We are going to try and crank it up another notch.", said Mondo after the competition. 🦅
View this post on Instagram
World indoor high jump champion Yaroslava Mahuchikh cleared a world-leading 2.05m to win in Brussels – her highest ever outdoor jump – and she backed that up with a 2.03m clearance to secure the Diamond League title. 💎 In what has been an incredibly challenging year because of the conflict in her home country, the 20-year-old PUMA athlete has become a world indoor winner, European champion and world silver medallist. Now she has also the Diamond Trophy to go with those honours.
"Every competition, every win, is so important for me and for Ukraine. Now, I finish the season with 2.03m. It is so nice and I hope I will find the power to compete in the new season.", she said.
View this post on Instagram
Olympic champion Gianmarco Tamberi saw off the challenge of PUMA family member and multi-discipline prodigy JuVaughn Harrison to claim the Diamond League high-jump title in Zurich. (JuVaughn also competes in long jump). Both athletes recorded season-best efforts that day at a specially constructed city-centre street venue.
Gianmarco offered a consoling chest bump 🎩 to his PUMA mate JuVaughn before grabbing his trophy and hoisting it aloft to the acclaim of the Swiss crowd. 💎
View this post on Instagram
PUMA athlete Shericka Jackson continued her magnificent season by winning the 200m Diamond League final in Zurich. Shericka sped to 21.80sec to take the 200m crown. 👑  It is the first Diamond League trophy for her. 💎
"I just wanted to come out here and take the win and run as fast as possible. My season was magnificent. I have run so many fast times. It is a wonderful year for me. I am just grateful for everything that happened," she said.
View this post on Instagram
PUMA athlete Andy Diaz Hernandez wins the triple jump Diamond League trophy thanks to a 17.70m Personal Best. This has been the very first Diamond League competition with three men over 17.60m👏🏽  💎
View this post on Instagram
When it came to the men's 800m contest, Emmanuel Korir proved his class with a world lead of 1:43.26. The Olympic and world champion ended his season having timed his race to perfection in Zurich. He held back from the early tempo, with the pacemaker leading the field through halfway in 50.41. The 27 year old PUMA athlete then kicked hard just before the line, winning in a world-leading time.
"I didn't expect the last few metres to be this tough. I was still behind in the last 200m. Maybe the first 600m were a bit slow," said Emmanuel. This is a hat-trick for him after previous Diamond League wins in 2018 and 2021. 💎💎💎
View this post on Instagram