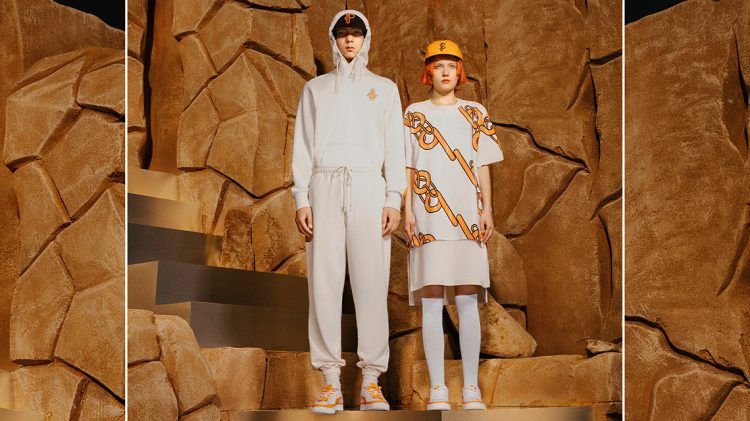 Abstract,
Mysterious,
Genderless.
PUMA AND PRONOUNCE CREATE DEBUT COLLECTION
July 1, 2021
PUMA AND PRONOUNCE CREATE DEBUT COLLECTION
July 1, 2021
PUMA and designer brand PRONOUNCE have created a debut collaboration together of apparel, footwear and accessories in an earthy palette inspired by Pumapunku, an ancient archaeological site in Bolivia. We asked the PRONOUNCE cofounders about the inspiration and designing process behind the collection.
Based across both Milan and Shanghai, PRONOUNCE was founded in 2016 by Yushan Li and his creative partner Jun Zhou. The high-end brand reflects the pairs' shared love of handcrafted garments, and a desire to perfect the creation of truly global, truly genderless clothing. This approach fits seamlessly into the debut PUMA x PRONOUNCE collection, which combines ancient inspiration with a modern and minimalistic design approach.
We asked PRONOUNCE cofounders Yushan Li and Jun Zhou about their inspiration and designing process.
PRONOUNCE brings a unique blend of East meets West to genderless clothing, while also incorporating a balance of your two styles. Tell us more about the story behind the brand and how you got started together.

Yushan: We met each other during our time as fashion students in London. I was studying at Central Saint Martins, Jun was at London College of Fashion. After becoming friends with Jun, I knew we had something in common.
Jun: Soon we both noticed that we shared the same aesthetic on fashion design. We both were ambitious and willing to start something together. After working in the industry for a period of time, we finally decided to start our own brand, PRONOUNCE.
You chose an ancient archaeological site, Pumapunku, as the inspiration behind the collection. Can you give us some insights on why this site was chosen as the collection inspiration and more on the story behind the site?
Yushan: Pumapunku is a significant historical site. When we saw it the first time, we were amazed by all the exquisitely cut stones. It's just unbelievable that it's been around for thousands of years. We wanted to know more about it, so we did lots of research. The more we learned about it, the more we became amazed by this mysterious and spectacular historical site.
Tell us more about the designs and process – how were you able to bring such a unique inspiration to life?
Jun: Our collections often feature loose, draping silhouettes in neutral tones, with experimental touches and unconventional styling. During the global pandemic, we had some time to think about how to start this collection. After we read and watched many articles and videos about Pumapunku, we were extremely inspired by it. This collaboration completely shows how we blended everything together.
Can you describe the person that this collection was designed for?

Yushan: When the collaboration was confirmed, the first thing first came to our mind was the spirit of adventure. We designed it for those who enjoy outdoor activities and sports, for those who like challenging themselves like we do.
How would you describe the collection in three words?
Abstract, Mysterious, Genderless