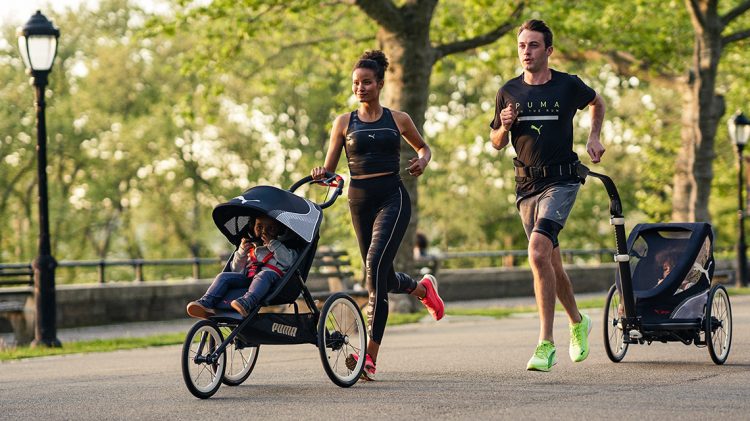 YOUR RUN.
YOUR CHOICE.
PUMA x Cybex
August 26, 2021
PUMA x Cybex
August 26, 2021
We are proud and happy to collaborate with
Cybex

and have developed two new

jogging strollers

that support parent's needs without sacrificing style. The strollers are designed to be functional but to also support a

runner parent's healthy lifestyle

. Meet the Multi-functional 4-in-1

Jogger & Bicycle Trailer ZENO

and the

Light-weight lifestyle fitness Jogger AVI

.
To do it all – biking, jogging and travelling
Designed for you multi-task, active and sporty parents out there. The strollers are inspired from the current trend to integrate the baby into a healthy fitness lifestyle of moms and dads. These running strollers were made for real life – designed to do the workout with the baby in style. It's where fashion meets functionality.
This year, PUMA has introduced innovative technologies, such as NITRO Foam, and launched a whole new family of performance running shoes. A perfect addition to these are the products that we created together with CYBEX. The two strollers are running products for parents who want to keep up their active lifestyle.
Designed for Sport: ZENO Multisport Stoller
Designed for sport, the ZENO lets you take your little one along for all your outdoor adventures. Whether you're push-running, hands-free running, cycling or cross-country skiing, share your active lifestyle with your child while performing your best.
The ZENO's one-of-a kind 4-in-1 Multisport feature lets you enjoy four different kinds of sports – whether you're jogging in the park, running or cycling in the city, or skiing through the snow.
Some key-features
Designed for Running: AVI
Engineered to be extremely lightweight, AVI is the ultimate running stroller. Protective PUMAs 'stand guard' on strategic areas of the stroller and the reflective elements allow for optimal visibility at any time of the day. Because only you should be in charge of when to run.
Some key-features