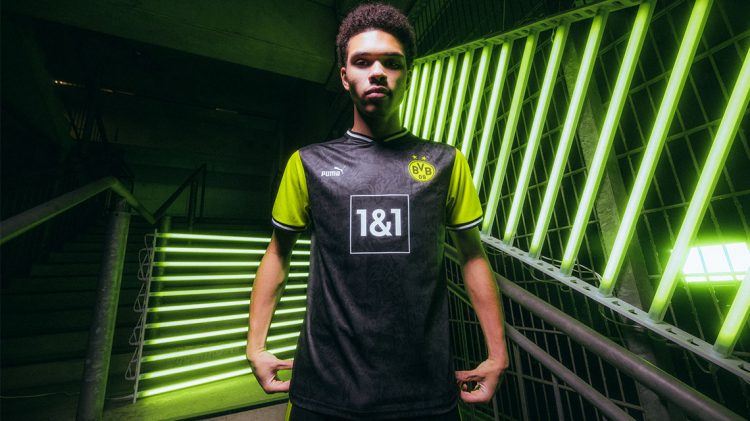 Big win
in retro jerseys
PUMA AND BVB LAUNCH SPECIAL EDITION RETRO JERSEY IN TRIBUTE TO THE CLUB'S MOST CELEBRATED ERA
April 19, 2021
PUMA AND BVB LAUNCH SPECIAL EDITION RETRO JERSEY IN TRIBUTE TO THE CLUB'S MOST CELEBRATED ERA
April 19, 2021
PUMA has launched an exclusive

special edition retro Borussia Dortmund jersey

in black and neon yellow, in honor of their
success in the 90s.

 During that time BVB won the

UEFA Champions League and two German Championships

. The PUMA team has worn the retro kit during this weekend's Bundesliga match against Werder Bremen, celebrating 111 years since their foundation. They also celebrated an

important 4-1 win

.

Borussia Dortmund striker Erling Haaland scored twice in four minutes on Sunday to help his team to a 4-1 win over Werder Bremen in the Bundesliga and revive their hopes of a top four finish. Maybe the retro jersey with all its memories helped the team?

Every era has its own history and with each era we associate our own heroes and stories, special moments and in this case, a color. When you think of BVB in the 90s, you automatically picture heroes of that time in their neon-colored jerseys.
View this post on Instagram
Following many historic duels during this time, Werder Bremen are the perfect opponents. Bremen were BVB's strongest competition during the 90s including a historic battle for the 1995 Championship title, the first black and yellow championship in decades.
Big win
With this victory, fifth-placed Dortmund reduced the gap to Eintracht Frankfurt, in fourth. A very big win for the BVB as the top four teams qualify for next season's Champions League. There are five games left to play for this season. Dortmund, our fingers are crossed!