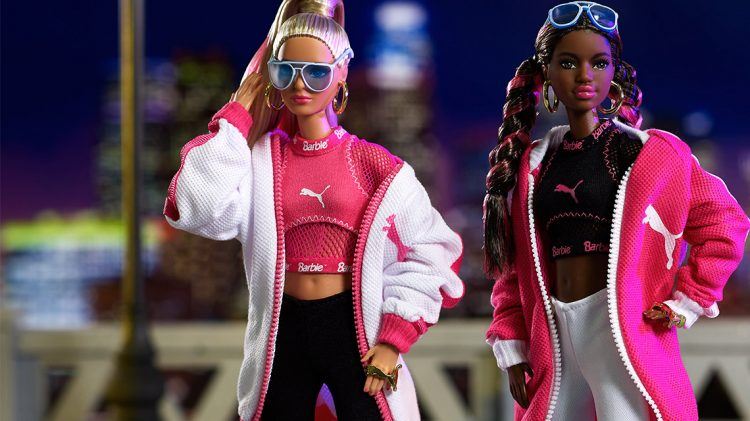 A Suede in a
Barbie World
Exclusive Suede sneaker pack comes with limited-edition Barbie doll
December 11, 2018
Exclusive Suede sneaker pack comes with limited-edition Barbie doll
December 11, 2018
During the course of 2018, we have celebrated the 50th anniversary of our
iconic Suede

with several

creatives, designers and artists

who put their spin on the iconic silhouette.
For this special birthday collaboration, we teamed up with Barbie and did not just come up with a unique iteration of the Suede, but also came up with the tiniest PUMA collection ever!
Two barbie dolls dressed in PUMA from head to toe come with the Suede x Barbie in an exclusive sneaker pack rocking sport fashion!
The PUMA Barbie doll arrives in two different styles: one blonde girl with shining pink streaks across her ponytail and another one with glossy brown hair in two braided pig tails. They accompany the black and pink version of the classic Suede silhouette.
Each doll is equipped with her own pair of Suedes and a 90s inspired PUMA outfit: a racerback crop top, an oversized fleece hoodie and leggings. If you pay a closer look you can even spot loving details in the array of accessories the dolls are wearing: blue-tinted aviator sunglasses, large hoop earrings and a PUMA logo ring.
A PINK NIGHT OUT
The product launch was celebrated last week at an all pink #BarbiexPUMA party in Downtown Los Angeles' Art District.
Influencers, celebrities and Barbie fans – some even dressed liked Barbies – partied with a DJ, pink cotton candy, and a lifesize Barbie packaging box for their own unique Barbie moment photo opportunities.
Don't worry, the PUMA x Barbie Suede 50 capsule collection is not just available for dolls, but for everyone! Inspired by the 90s sportswear it features an all-black and all-pink Suede with a black-and-pink satin bow on the heel, the racerback crop top, the T7 hoodie and leggings with a baseball cap and a backpack.
Cover Picture Credits: Mattel