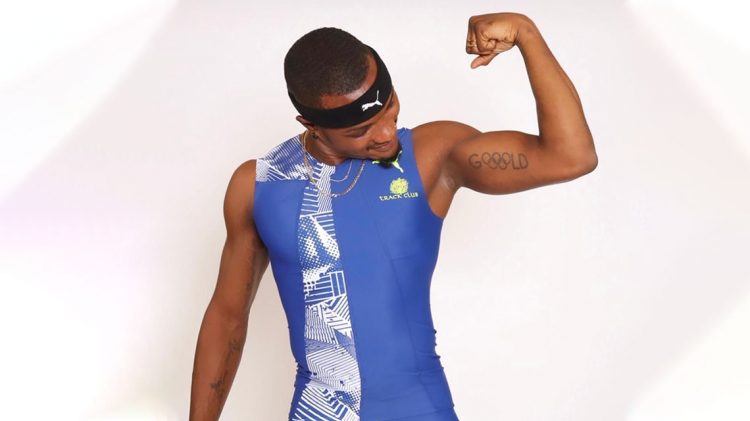 Welcome
to the family
Omar McLeod
PUMA partners with Jamaican track and field star and Olympic Champion
July 7, 2020
PUMA partners with Jamaican track and field star and Olympic Champion
July 7, 2020
PUMA signed Jamaican professional hurdler and sprinter Omar McLeod, which he proudly announced on his Instagram channel. The 26-year-old is
reigning Olympic Champion

in

 110m hurdles

and the former World Champion.

Omar was a promising high school athlete, when he started his professional track and field career in 2015. In the same year, he won the 110 m hurdles at the Jamaican Championships with only 12.97 seconds, setting the national record and being the first athlete to both run this distance in under 13 seconds as well as the 100 meter sprint in under 10 seconds. A year later, the athlete won the World Indoor title, running the 60m hurdles in 7.41 seconds. In the Rio 2016 Olympics, he won Gold in the 110m hurdles, making him the current Olympic Champion.
Omar is known for his charismatic personality and sense of humor, which makes him one of the most likeable stars in the track and field world. He currently trains in the PUMA sponsored Tumbleweed Track Club, a professional track team based in Jacksonville, Florida. There he practices alongside top athletes Andre De Grasse (triple Olympic Medalist) and 100m European Record holder Jimmy Vicaut under PUMA Coach Rana Reider.
PUMA is synonymous with Track and Field in Jamaica and has supported some of the past greats, most notable Usain Bolt, of course. It feels great to become part of this heritage and leave my own mark in the future.
PUMA has a great history in Jamaican track and field: PUMA sponsors the Jamaica Athletics Administrative Association as well as the Jamaica Olympic Association. PUMA is the kit supplier for most of Jamaica's top athletes, above all, World Record holder and fastest man in the world Usain Bolt, and we'll hopefully extend the success story with Omar.