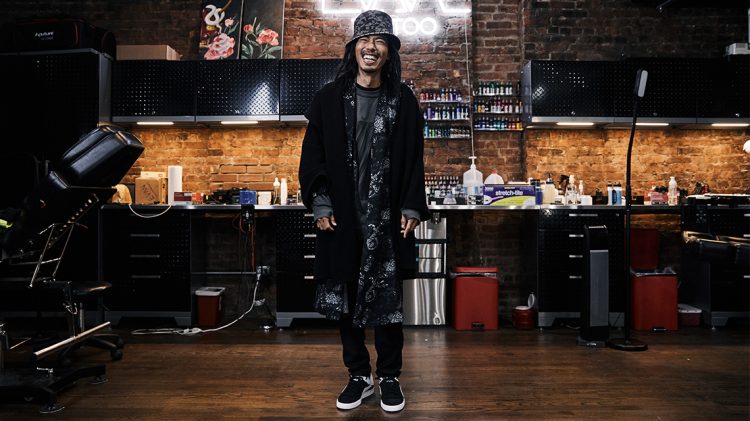 Steal the Style
NEW YORK, KOREA,
FASHION & TATTOOS
Tattoo artist Evan Kim wears new PUMA headwear
November 23, 2021
Tattoo artist Evan Kim wears new PUMA headwear
November 23, 2021
New York-based tattoo artist

Evan Kim

shares how he applies his personal style to

new
PUMA headwear
. The way he sees it, the body is an ideal canvas and tattooing is a unique expression of both the person getting inked and the one administering it. In a similar way, he uses style as an avenue for creative output dressing in a way that

combines his Korean roots with inspiration from the city

and people around him. Don´t miss to

check out the lookbook!
With styling, it's like finding what you like. Actually, I don't throw out my clothes. I keep like ten years of clothing — that's really vintage.
Evan wears an all-black outfit with wide pants, a cropped jacket made from technical fabric, a PUMA beanie and a pair of rounded sunglasses — an accessory he doesn't leave home without. His look is topped off with PUMA Suede sneakers, giving a vibe that is a steady combination of New York with Korean influences.
I like the hanbok (Korean) style and traditional Korean clothing. They're kind of from the past. I want to wear them in a way that's more modern, so I'll wear some sneakers.
I always say to try keeping a piece for three years. If you don't use it in three years, then maybe you can throw it out.