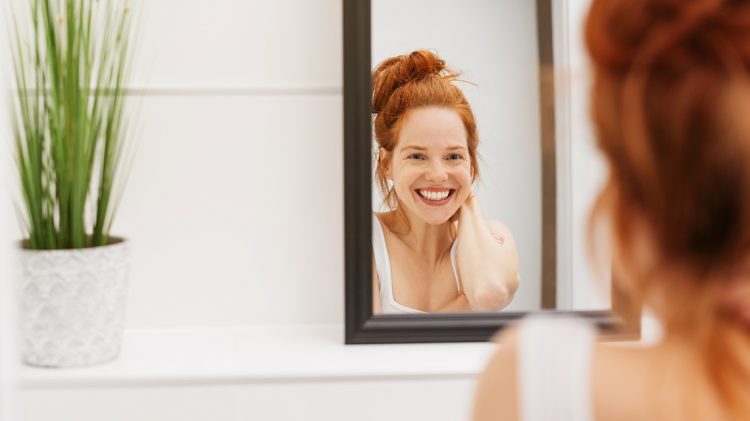 Natural Skin Routine
Tips & Tricks to Get That Glow
November 20, 2021
Tips & Tricks to Get That Glow
November 20, 2021
The skin is your body's largest organ. This wonderful protective layer acts as your
first line of immune defense and mediates your connection to the outer world

. Plus, the state of your skin communicates a great deal about your internal health… Needless to say, it's important to show it some love and respect! In this vein, many are

making the shift away from synthetic and processed beauty care products, opting for more natural ingredients

to support their skin health. We've put together a 100% natural skincare routine made of simple, affordable ingredients plus some bonus recipes and tips to help you get that glow.
Finding a Natural Skincare Routine for You
Everyone is different, so choosing a skincare regime is a pretty personal process. First, you'll need to get an understanding of your skin type: is it sensitive, oily, dry, combination or 'normal'. Certain ingredients and recipes will work better for some skin types compared to others, and it may take a bit of trial and error before you find the combination that your skin simply adores.
It can also be good to ask yourself how much time you want to devote to your routine, what your budget is and what is really holding you back from committing to some regularity (maybe taking off your makeup before bed is just something that will just never happen).
Skin Care Basics
Whatever the case, there are a few essential elements in any procedure:
Cleansers
Cleansing is a good first step for most routines (both morning and evening) because it cleans the oil, dirt and bacteria that accumulate on your skin throughout the day or night. There are various organic washes available, or you can go with the adage 'like dissolves like' and opt for an oil full of skin-nourishing vitamins to use as a gentle and effective cleanser.
There are many different oil cleansing recipes available but you can start by trying hemp seed, castor or coconut oil; all are anti-inflammatory and antibacterial but coconut is a bit thicker, so not necessarily ideal for oily skin types. Massage the oil onto your (dry) face and then place a very warm washcloth over your to steam the pores. After a few minutes gently dab off the oil with the washcloth.
Toners
Toning is designed to rebalance the skin after cleansing, get rid of excess oil and leftover dirt, and help to tone and tighten your pores. Some natural clarifying toners that help balance your skin's pH are apple cider vinegar, grape seed extract, peach extract and witch hazel. For a more gentle option, make sure to dilute the pure product especially if you have sensitive skin.
Moisturizers
Your skin thrives when moist, so this step is pretty key. While you do produce some naturally replenishing oils on your own, a little help can go a long way in keeping your skin happy, hydrated and ensuring this protective barrier is functioning at full capacity. Some great choices to start with are jojoba, argan, almond, rosehip, apricot or grapeseed oil.
Serums are next-level moisturizers, penetrating deeper dermal layers. Vitamin C serums are currently all the rage because they are full of antioxidants that brighten and smooth the skin. Apply after toning to any particularly dry patches or areas that need a little bit of extra care and then seal with a layer of moisturizer.
Bonus: Masks
Once a week or so, it can be lovely to deep clean your pores and rejuvenate your skin with a mask or exfoliator. Masks that contain charcoal and clay-based masks are great for drawing out impurities while ones with caffeine, like a tea leaf concoction, help rejuvenate the appearance of skin. Exfoliating masks help to slough off dead skin.
______
1 tbsp cocoa powder (antioxidant-packed and moisturizing)
1tbsp raw honey (hydration)
1tbsp sour cream (lactic acid hydrates & exfoliates)
1 egg white (tightens and firms skin)
Mix all together, apply to the face and let dry before washing off.
______
3 tsp ground oats
¼ tsp apple cider vinegar
¼ tbsp lemon juice
½ tbsp brown sugar
Combine until ingredients become a smooth paste, apply to skin and let sit for 10 minutes, before rubbing in circular motions to exfoliate and rinse off.
______
1 tsp peppermint tea leaves
4 tsp white tea leaves
½ cup boiled distilled water
2 drops lavender oil (or other essential oil of your preference)
Let all ingredients steep for 10 minutes; let cool and strain, pouring into a spray bottle and storing in the fridge to use later as a chilled, refreshing toner mist.
Speed Round: 6 Quick Tips for Healthier Skin
Sunblock!
You've heard it before, but it bears repeating…always wear sunscreen! This is an utter essential and one of the most important ways to care for your skin. Protect yourself and invest in a natural daily sunscreen that you can add as a final layer after your morning routine.
Don't Smoke!
Smoking constricts blood vessels in the outermost layers of the skin, decreasing blood flow and depleting skin from oxygen and nutrients that give it that healthy glow. It also damages collagen and elastin – the fibres that give your skin that fresh appearance.
Lifestyle!
Nutrition, exercise, and stress all affect your skin from the inside out. This itself deserves its own article, but in general, your skin is an external reflection of what's going on inside. Staying well-rested, hydrated and eating a diet rich in fruits, veggies and lean proteins all contribute to giving you gorgeous skin.
            Supplements!
Some top choices of skincare supplements are fish oils (full of vitamins A, D, K and omega-3s), gelatin (a precursor to collagen) and magnesium (an often lacking anti-inflammatory).
            Be Gentle!
Wash your face with warm (not hot) water to prevent drying it out. After cleansing, pat your skin dry but still leave a little bit of moisture on your skin. Avoid harsh soaps and other chemicals, and take care when you're removing makeup especially around the very delicate skin close to your eyes.
           Switch Slowly!
Be patient and give your skin time to adjust as you change your regime. Especially if you know that you're sensitive,  first do a patch test and try out a product on your inner arm to see how you react to it.
The Bottom Line
Eco-friendly, affordable and effective – what's not to love about going au naturel with your skincare routine? While there is no one-size-fits-all solution,
starting a simple, natural skincare routine now will go a long way towards maintaining that vibrant glow in the future.