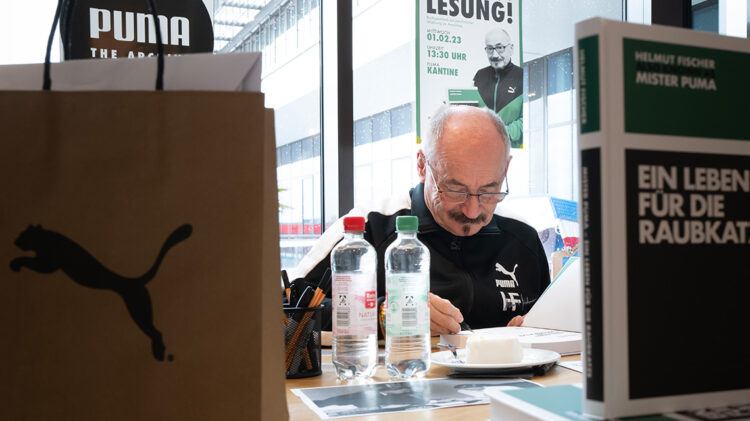 The biography
of the year
Mr. PUMA, Helmut Fischer, Reads His Biography at an Internal Event at the PUMA HQ to Mark His 45th Anniversary with the Big Cat
February 3, 2023
Mr. PUMA, Helmut Fischer, Reads His Biography at an Internal Event at the PUMA HQ to Mark His 45th Anniversary with the Big Cat
February 3, 2023
This man does not need much introduction. Many simply call him Mr. PUMA – and there is a good reason for that. On February 1st, we celebrated the 45th work anniversary of Helmut Fischer. He lives and understands the PUMA brand like no one else, has experienced all the ups and downs, helped build PUMA´s marketing department in Germany and in recent years, lifted the PUMA Archive into impressive spheres. Now Mr. PUMA has published his biography "My Life for the Big Cat". At our PUMA headquarters, he gave an exclusive reading followed by a book signing. The crowd was overwhelming, see for yourself!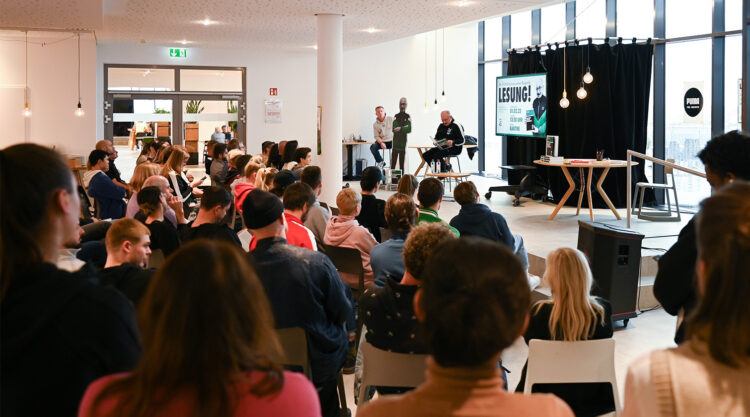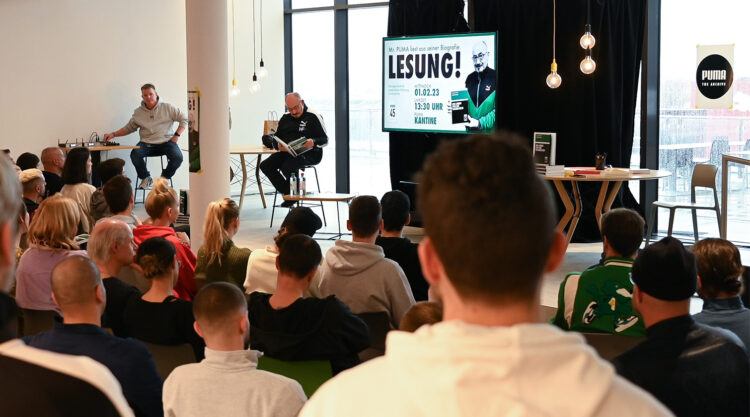 More than 200 PUMAs attended Helmut's reading. It was held in German, as his biography is also only available in German for now. On the same day, about 400 books were distributed free of charge to interested employees.
Before the reading, Dietmar Knoess (Global Director of People and Organization) gave a few introductory sentences. He talked about Helmut's life's work and what a unique character he is. Furthermore without him, there would be no PUMA Archive, from which we benefit every day.
Helmut has met countless athletes and ambassadors during his career at PUMA. From football icons Pelé, Diego Maradona and Lothar Matthäus to Jay-Z. He has also built up a friendly relationship with many of them.
During the reading, he enchanted the crowd with his anecdotes. With his fantastic sense of humour and authenticity, he caused many laughs in the canteen where the reading took place.
After the reading, many PUMAs took up the offer to have Helmut's biography signed. A long line formed in front of the "signing table". The interest was overwhelming. Employees of all ages had their books signed by Helmut and took selfies with him.
#FANDOM
Helmut needed a mobile wrist that day! He signed countless books in about two hours.
Culinary wise, there were several cakes to choose from after the reading. There was both a fruity cake and a vegan chocolate cake, so all tastes were met. The icing on the cakes featured Helmut's picture. He opened the cake buffet by cutting the first piece.
Earlier, there was a menu to choose from at noon in the canteen that Helmut had chosen. Of course, this was a traditional Franconian dish – Schäufele.
Helmut was also presented with an award created especially for him. Dietmar Knoess (Global Director of People and Organization) ceremoniously handed it over after the reading.
Here's to many more years with Mr.PUMA! 🐾