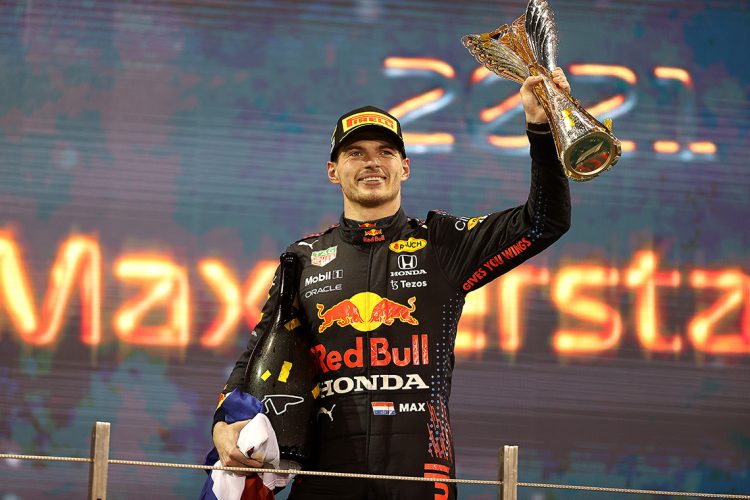 First F1 Title
for Max
Verstappen
Max Verstappen wins maiden Formula 1 Drivers' Championship after exciting race
December 12, 2021
Max Verstappen wins maiden Formula 1 Drivers' Championship after exciting race
December 12, 2021
Red Bull Racing Honda driver Max Verstappen won his first-ever Formula 1 title after a nail-biting season finale in Abu Dhabi, which was decided in the final lap.
The 2021 Formula 1 season will enter the history books as one of the most exciting ever, with Lewis Hamilton and Max heading into the final race equal on points. Lewis had taken an early lead in the season, but Max narrowed the gap and overtook Lewis with six victories in nine races between May and September. Lewis recovered, however, and won the penultimate three races of the season.
Though Lewis was ahead for most of Sunday's race, a safety car phase in the final laps meant Max was able to change to fresher tyres and overtake Lewis in the final lap of the season.
"It's just insane. My goal when I was little was to become an F1 driver and you hope for wins and podium finishes. When you hear them play the national anthem, you hope that one day they'll play yours. When you stand here and they tell you you are the World Champion, it's incredible," Max told reporters after the race.
"Lewis is an amazing driver and an amazing competitor. They made it really, really hard for us, " he added. "It could have gone either way but next year we'll come back and try it all over again."
For PUMA, 2021 was another successful year, as the three PUMA sponsored teams, Mercedes AMG Petronas F1, Red Bull Racing Honda and Scuderia Ferrari took the top three spots in the Constructors' Championship.
From all of us at PUMA: Congratulations Max! 
View this post on Instagram