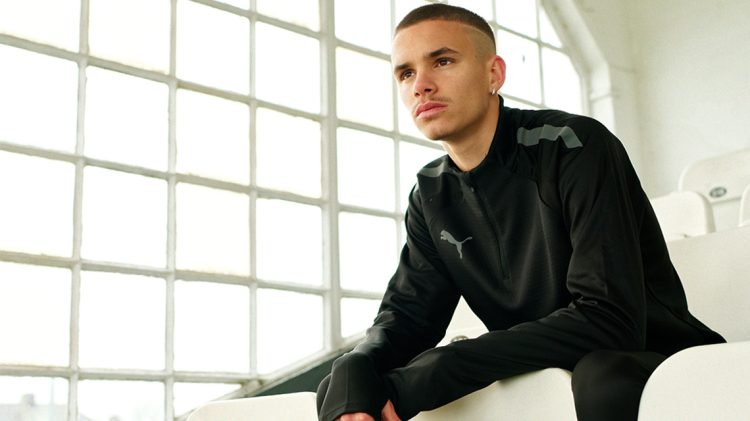 A Chat
with Romeo
Interview with PUMA athlete Romeo Beckham
January 13, 2022
Interview with PUMA athlete Romeo Beckham
January 13, 2022
We just welcomed
Romeo Beckham

to the PUMA Family. Now, CATch Up had the chance to talk to the

Fort Lauderdale CF player

about

his 'passion for fashion and football'

ahead of his second season as a professional football player. Romeo will wear our

FUTURE Z 1.2 boots

when he is on pitch.

Check out the interview!
Romeo, you are now a member of the PUMA Fam, how would you describe your connection to PUMA and what made you join us?
Romeo: I've loved PUMA as a brand for a long time. The last few years the boots and products have been great. I was wearing the Future Z boots for a while before signing a deal. PUMA was always my first choice. Watching some of my favourite players join PUMA, like Neymar Jr, was also really exciting.
Was it your childhood dream to become a professional footballer?
Romeo: I've grown up around football, so it was always a big interest for me and when I started playing more seriously it became a goal. I played other sports too but decided football was the route I wanted to go down.
What is your Future Z boot experience so far?
Romeo: I love them – they're incredibly comfortable and I'm enjoying playing in them.
"I'm pretty quiet on the pitch and like my football to do the talking really."

– Romeo Beckham

What are your goals for the new year and how would you describe your playing technique ?
Romeo: I'm excited for this year as it will be my first full season in Miami. I'm just looking to keep improving as much as I can and will be focused on that. I've always been an attacking player and I'm pretty quick so I think I'm at my best when playing wide and getting crosses in. I love taking set pieces too, which I've been practicing a lot in the off-season.
What is your character as a player in the match?
Romeo: I'm pretty quiet on the pitch and like my football to do the talking really.
Although you're still very young, you're a role model for a lot of young people everywhere. What is your message to them?
Romeo: I've never really thought of myself as a role model but obviously that's amazing to hear. I've always been encouraged to work hard at whatever I do so that would probably be my message to other people.
What does fashion mean to you?
Romeo: I see it as a chance to stand out from everyone else. You can still make a statement and also be comfortable in what you wear.