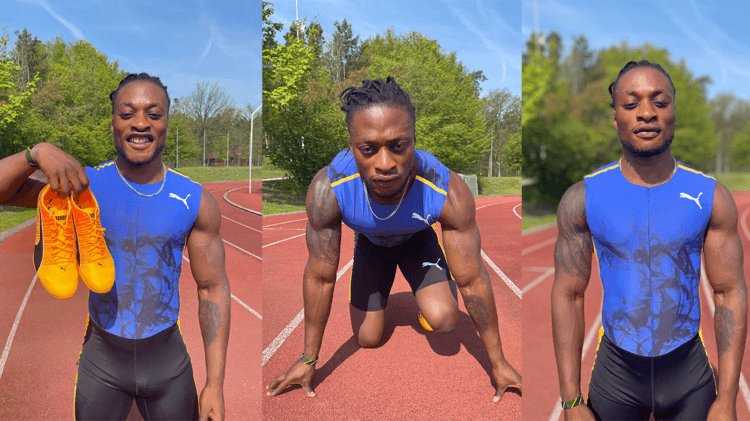 "Disability is ability"
Interview with Paralympic Champion and World Record Holder Salum Kashafali
May 10, 2023
Interview with Paralympic Champion and World Record Holder Salum Kashafali
May 10, 2023
Meet
Salum Kashafali,

the fastest 100m male para-athlete! Diagnosed with Stargardt disease at the age of 23, Salum was forced to change his athletic career once he became visually impaired. Now, at the age of 29, Salum holds the

world record for the T12 100m event with a time of 10.43s.

Determined to better the lives of those in his home country, Salum donates the money he wins through competitions to schools in Congo.

Born in Goma, Congo, Salum Kashafali fled to Norway in 2003 because of the civil war. At the age of 17, Salum found a love for athletics and started to make his mark on the sporting world at a national level. After being diagnosed with Stargardt disease (a loss of central vision) at the age of 23, Salum struggled to find purpose in continuing to train as a professional athlete. Determined to never give up, he is the fastest male 100m T12 athlete of all time, holding the world record. CATch Up had the opportunity to chat with Salum on his athletic career and his project in Congo. Find out more below!
Get to know Salum Kashafali in FOREVER.FASTER. style.
Training in winter or summer?
Salum: Summer
Sweet or savory?
Salum: Sweet
Favourite sweet treat?
Salum: Ice cream or chocolate
Who is your favourite music artist?
Salum: Burna Boy
A song that you can listen to on repeat.
Salum: Anything Bob Marley!
Cats or dogs?
Salum: Dogs
Hobbies aside from sports?
Salum: Puzzles
Favourite PUMA product?
Salum: It has to be the spikes
Are any PUMA athletes a role model for you?
Salum: Usain Bolt, of course!
"TALENT WITHOUT DEDICATION WILL NOT GET YOU FAR." 
What are your goals for this year?
Salum: I want to run faster than last year and win the World Championship.
You are the fastest Paralympian of all time and broke a world record in your first ever competition as a para-athlete. How are you preparing for the World Championships in Paris this year? 
Salum: I'm preparing for the world championship just by doing daily workouts. It needs to be done! I also eat well, sleep well, and make training as optimal as possible.
Do you have any pre-competition rituals?
Salum: Yes, I do! The day before competitions I always eat chicken and rice. And in the morning, some watermelon. These are some of the things that have to be done, and if I don't have them then I always take them with me. Or I will just squeeze the watermelon to get the juice.
How do you cope with bad days?
Salum: I don't let them define me or what I'm doing on a daily basis. I recognise them and that they are just part of being human, too. So I just let it be.
We also read that you are a maths teacher – how do you balance teaching with training?
Salum: I used to be a maths teacher, but now thanks to PUMA I get to be a full-time athlete. It is now a lot easier to balance my daily life: when I was working, it was about five-six hours and on top of that I had to train three-four hours. It was too tiring. And children make a lot of noise! I taught 8th -10th grade for two years.
How or why did you get into athletics?
Salum: I felt like I belonged there. I felt like it was a place where I could just go and be curious and try to be the best I can. It is a place where I can have fun and develop myself. It's like a playground. It doesn't matter which kind of race, religion – everybody can come together and just have fun together.
Have you always been into running or do you also do other sports?
Salum: I also play football.
What advice would you give a young aspiring para-athlete?
Salum: That talent without dedication will not get you far. Dedication and talent must come hand in hand.
When you were 23 you were diagnosed with Stargardt disease. How did you cope with this and the change in your athletic career? Did you always know that you want to keep being an athlete & run track?
Salum: No, I actually quit for one year. I didn't want to be an athlete. I didn't want to do athletics at all. I couldn't see myself doing any track and field anymore. So for one year I was like, I'm just going to go back to basics, just teaching or find other things to do in life. I came back to athletics because I realised one day that I can still come to a sport and be as good as I can be. I didn't want to just stop my life because something happened to me. I just didn't want to let it control my life. I want to control my life. I don't want to be controlled by what happened to me. So, I wanted to come back to the sport and try and show everybody that disability is ability. People told me that you can never run again. You can never be in a championship, you can't do this or that. I wanted to prove everybody wrong and strengthen myself to show I could do it.
You are donating the money you've won in your competition to schools in Kongo. Can you tell us a bit more about this amazing project?
Salum: When I was growing up, before I came to Norway when I was around ten years old, I never got the opportunity to go to school and learn – I couldn't even write my own name. Where I am from, they were building more jails than schools. It was really hard to grow up in that place. So I promised myself when I came to Norway, if I ever got a job, I would get the money and try to donate as much as I can. So, I became an athlete. The first thing I said was the first paycheck I will get, I will donate it. And I started there, to build schools so people can grow with the mentality the more we learn, the more we earn. You can have nice clothes, you can have nice shoes, you can have a lot of nice stuff. But if you don't have education, if you don't have a healthy mind, you are not going to get anywhere. I just wanted to give those people the opportunity to make their own choices.