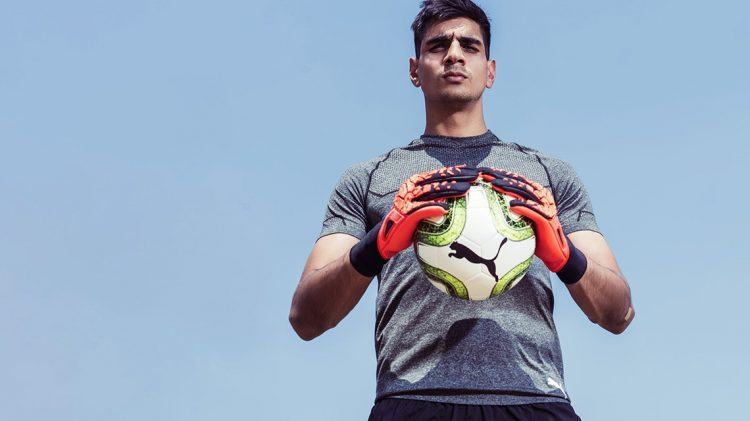 "It's not just
about saving
goals anymore"
Indian National Goalkeeper Gurpreet Singh Sandhu about the role of a goalkeeper and football in India
June 13, 2019
Indian National Goalkeeper Gurpreet Singh Sandhu about the role of a goalkeeper and football in India
June 13, 2019
Gurpreet Singh Sandhu is one of India's most successful football players: he was the first Indian footballer to play for a
European top division club,

 Stabæk in Norway, captained the Indian national football team to a historic victory in the

Asia Cup 2019

and won the Indian Super League's 2018-19

Golden Glove Award.
The Indian national goalkeeper will be the face of PUMA football in India joining the country's strong roaster of PUMA athletes like Virat Kohli, Mary Kom and KL Rahul.
To us, he talked about what it is like playing football in a country where cricket is the beloved national sport, what makes a good goalkeeper, why he and PUMA are a perfect fit and more!
How did you start playing football?
I started playing football in my school's academy in Chandigarh at the age of 8 or 9. That's how I learnt about the game and I've been a goalkeeper since.
Coming from a country where cricket is the national sport – What do you like most about football?
It finishes much faster than a cricket game ?. No, just joking. I have nothing against cricket to be honest, I love the game and my dad is a huge fan. In football, it's different because it's a contact sport and it's played in almost 200 countries which makes it completely different to cricket.
In how far did the role of the goalkeeper change over the last years?
Goalkeeping has changed so much over the years: It's not about just saving goals anymore, it's also about starting attacks and play more with their feet.
What does it mean being a team captain from your point of view?
I have captained the team on some occasions yes. Right now Sunil Bhai is our captain and a great leader. Being captain is to make sure you lead by example and help players in the team develop and be there for the team.
When did you realize you could become a professional goal keeper?
I think at the age of 15 when I joined the Junior National teams of India and I got a chance to watch the National League and interact with the professional players. That's when I knew I could play football professionally.
What makes a good goalkeeper?
A good goalkeeper can avoid situations before they even happen just via communication and good positioning.
How can you, as a goalkeeper, train to stay calm and focused during a penalty shot ?
I think it's just about making sure that you are confident in your approach.
Why is PUMA the perfect brand for you?
PUMA, for me, is the perfect brand to help me enhance my game professionally and also grow as a person.
How can you and PUMA further the adoption of football in India?
I think what has been missing so far is a platform and the awareness of Indian football in India so I think together, we will try to work things out and build that bridge of opportunities and awareness about the game and provide that platform for kids.