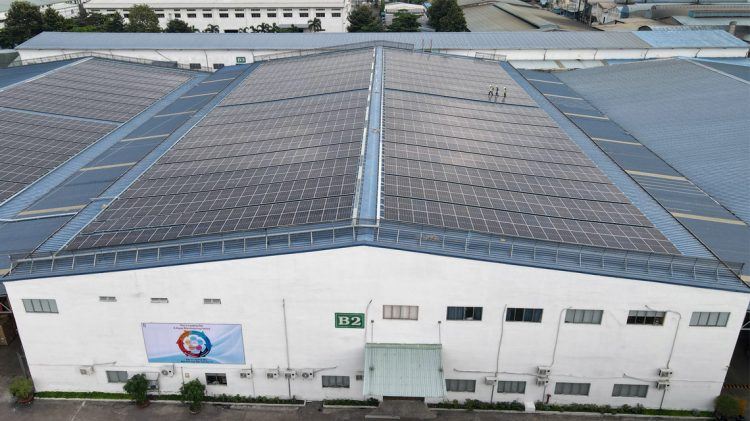 Let
the sun
shine
How PUMA reduces carbon emissions in its supply chain
February 5, 2021
How PUMA reduces carbon emissions in its supply chain
February 5, 2021
When the sun rises over the outskirts of Ho Chi Minh City in Vietnam, the large flat roof of the Leading Star factory starts to generate electricity and reduce carbon emissions in PUMA's supply chain.
The factory, which makes knits and woven apparel for PUMA, installed solar panels on its roof last year in cooperation with PUMA and German development agency GIZ PDP. After the first phase of the project was completed in December 2020, Leading Star was able to reduce its carbon emissions from electricity by 25 %.Per year, this installation alone will save 1,331 tonnes of CO2.
There are plans to expand the solar installation so that half of the electricity used by the factory will come from solar panels.
The solar panels at Leading Star are just one example of cutting greenhouse gases in PUMA's supply chain. It shows that we are looking beyond our stores or our offices in search for carbon reductions.
In cooperation with organisations such as the Project Development Programme implemented by the GIZ under the German Energy Solutions Initiative, Clean by Design or PAcT, PUMA is working hard to ensure that our factories also become cleaner and emit less carbon.
In 2019, PUMA set a science-based target. That may sound complicated, but it means that we want to do what is needed to meet the goals of the Paris Agreement and keep climate change in check. For our supply chain, that means that we want to reduce our carbon emissions by 60 % relative to sales between 2017 and 2030.
"We are seeing more and more scientific reports that highlight the need for urgent action, as global warming is happening at a faster pace than we had previously anticipated," said Stefan Seidel, PUMA's Head of Corporate Sustainability. "That is why PUMA wants to be a part of the solution by setting a bold path towards reducing greenhouse gas emissions."
Throughout this month, we will show you other examples how PUMA is reducing carbon emissions in its supply chain! Stay tuned.