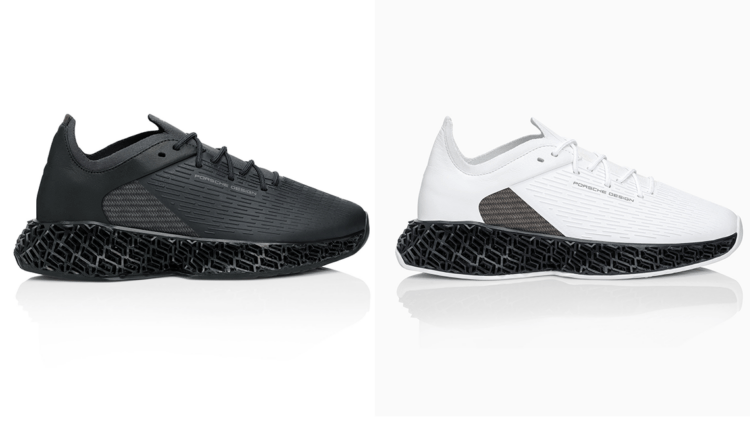 PUMA's First
3D Printed Shoe
Hear the Story Behind PUMA and Porsche Design's Innovative Collaboration
July 18, 2023
Hear the Story Behind PUMA and Porsche Design's Innovative Collaboration
July 18, 2023
PUMA have joined forces with Porsche Design® to bring PUMA's first 3D printed shoe to the world:
3D MTRX.

With an innovative midsole made entirely by a 3D printer, it's unique lattice design – called the matrix – is based on Porsche Design®'s logo.

CATch Up had the chance to speak to PUMA employees Kevin Redon, Lead Designer Motorsport Footwear, and Stephane Labarre, Head of Development Motorsport, on the process behind creating the shoe. 
Can you tell me a bit about the shoe and how the idea came about.
Kevin: We started working on the 3D printing project quite a while ago now, reaching out to different companies and faced serious challenges especially on functionality – like once the first prototypes were made, they were not wearable. Then, we linked up with US company LUXCREO® that was able to create wearable pieces just how we imagined it. The Porsche Design® collection aimed to be our innovation window for the public, we really wanted to make it work and happily launch the first PUMA 3D printed shoe!
So, this is the first 3D printed shoe PUMA has ever made?
Stephane: Yes! The first commercial shoe with a 3D printed piece. We are always looking to create the highest technically advanced products. And with the opportunity to work with Porsche Design® on the shoe, it was a chance to create something innovative.
What is the intention behind the shoe?
Stephane: We are always trying to make really exciting products for Porsche Design®. Porsche Design® products tend to be of a high price point. So, this allows us also to explore things that maybe we could not or that other business units cannot. It was really a way to push the development and create a really striking product.
Kevin: It's all about creating the best, the most exciting, the most innovative product.
Can you tell me a bit about the technology behind the shoe.
Stephane: The technology is additive manufacturing – which people often know as 3D printing. Instead of having your typical midsole being moulded, using EVA or PU or something like that, in this case the company uses TPU to 3D print the midsole.
Kevin: Think about it like negative vs positive space: it's day & night. For any midsole foam like EVA or outsole with rubber, we build a mould: you create this big block of metal that contains basically negative space, that you then inject compound in. For this project, we get rid of all that. The whole mould situation and of course the cost of creating the mould in the first place, is out. You literally print just what you need.
Can you tell us a bit about the process to create the shoe.
Stephane: We used the data and the experience that the 3D printing company already had, from processes such as foot mapping, as a general top line check. We did many options in terms of the design of the midsole, structure, and so on, and then we picked the one that was giving the most satisfaction in terms of fit, wear and performance.
Can you tell us more about the design of the lattice structure of the shoe. Did 3D printing influence how you designed the midsole?
Stephane: The good thing about additive manufacturing, or 3D printing, is that it allows for really intricate and striking designs. Of course, when you typically mould a piece, then you are fitting a mould with that compound and then you get something everybody is familiar with. Whereas now, with additive manufacturing, you can do all sorts of interesting textures and designs that you could not mould.
The Matrix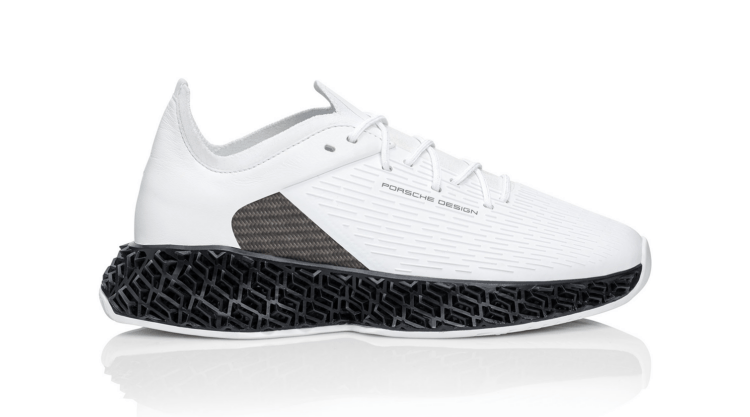 Kevin, how did you incorporate elements of Porsche Design® into the shoe?
Kevin: The texture itself is inspired by the Porsche Design® logo.
I used their signature icon as my starting point to create a three dimensional & repeating structure – a lattice – that evolved during the process. The big difference here, is that instead of being a full foam "sponge", where with the compound we figure out the rebound, the responsivity and so on… here there is none of that because it is all empty.
From the additive process, we went through multiple and multiple trials and exercised how thick/thin we could, or should, go. How spaced it could be, and all of those little parameters to, at the end of the day, create more rebound, less or more cushioning in different areas etcetera. We went through a loop process of trial and error.
Stephane: The other good thing about 3D printing is that unlike when moulding an EVA midsole for instance, you can have different zones in your midsole. You can say "hey, in this area I want a little more of the material than in this area" or "I want the structure to be a bit denser or less dense". And this allows for the zoning of the midsole. This is where we worked with the 3D printing company and did many trials to get the right performance level that we wanted.
How long does this trial and error process take?
Stephane: It went faster than I thought it would! I was expecting potentially many issues, technical difficulties, even in terms of shoe making and so on. But it was really quite fast. I think this is also because the company we worked with was really flexible. We managed to have quite a few options and then we did some fittings and lab testing. Everyone was so on board: we had many video calls with the company and also with our people in sourcing altogether. Of course, the whole process took some time but it was relatively fast.
We had a lot of team meetings to keep everyone aligned. Most of our team's meetings were between California, China, Vietnam and Herzo with different branches of the whole process. That was cool – our collaboration was really tight.
3D Printing
Did you face any limitations with 3D printing?
Stephane: We had to learn really quickly about the limitations and the potential of the process and what we could design because it is something we had never done – Kevin and I, or frankly hardly anyone at PUMA. We really had to ask the right questions and understand what the limitations were and how we could make the best out of that in terms of our design. That was something that was really cool!  But required a lot of flexibility from our side.
Kevin: It was a completely unknown field to us! Many people say that 3D printing is basically freedom, but it is not. There are still so many restrictions as mentioned by Stephane & let's not forget that we are talking about a wearable product that scratches the floor all day every day. So through a completely new process, we had to learn a lot.
Stephane: It's exciting too! I think for me it was a fun project. I've been in this job for 25 years and there haven't been so many projects where I learnt so much.
What is the benefit of using a 3D printer?
Stephane: The cost factor is really limiting at the moment, but the benefits for me are clear. The benefits are that we can do very intricate designs that we could never mould: a huge part of the benefit is that you don't have to use moulds. You can be a bit more flexible if you want to tweak your design, let's say. And for me, another benefit is really the zoning. Like I said, you can have different textures, you can tailor your midsole. Most of the benefits now have been overshadowed by the cost factor and this is why this technology is not so mainstream yet. Maybe in 20 years when the cost has come down, I can imagine some footwear brands offering the possibility to people to have completely tailor made, perfect midsoles. You can imagine an algorithm calculating the perfect midsole depending on your body type and how you run.
Kevin: The turnover is also much faster – this is a big positive factor. If you want to see if a design works, you can try it and test it quickly because it will be available pretty much right away. You don't have to wait for a mould to be built and so on. With 3D printing, you get this ultra flexibility about it and can build your thoughts out "as easy as Lego". The benefit is you are doing more with less, the customisation as mentioned and recycling! Especially circularity etc… I mean you can fly far if you expand it even out of the footwear area.
Do you think 3D printing is something that will be incorporated into shoe creation in the future?
Stephane: The plan now is to do some other iterations of the shoe. We have something that is in development for the future, I don't know for sure! We and Porsche Design® were very happy with the shoe, so it is possible we will want to keep having a pinnacle shoe with a 3D printed midsole, it's possible we will have some more iterations of it. I think that the cost factor for the rest of the company is very limiting, I would say, so it's because of our chance to work with Porsche Design® that we have some higher price points to work with.
Kevin:  It got something more than interesting with a lot of benefits & creative potential: definitively worth exploring deeper. And I mean, signs shows! You can already see many other field using additive manufacturing, you can potentially "3D print" pretty much anything today: housing with cement, backing, art, electronics, automotive with functional & heavy-duty pieces, health with titanium replacement bones and the list goes on and on…