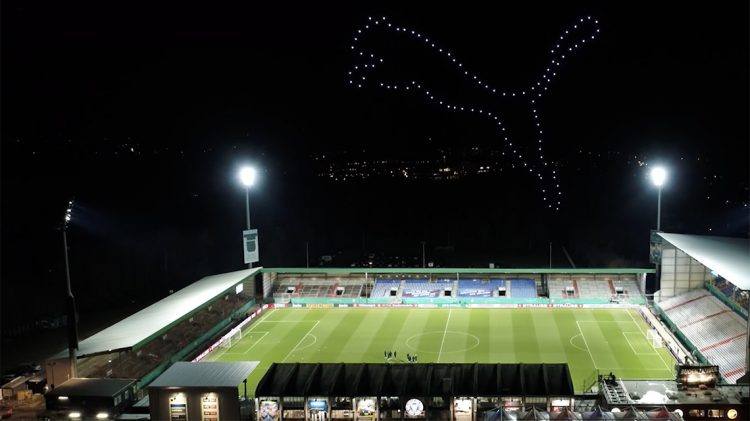 A giant
PUMA in the
night sky
Spectacular drone show outside Holstein Kiel stadium inspires epic win
January 15, 2021
Spectacular drone show outside Holstein Kiel stadium inspires epic win
January 15, 2021
105 drones whirred through the air outside the stadium of PUMA club Holstein Kiel on Wednesday to paint a giant PUMA into the night sky. This spectacular performance helped to inspire the club's sensational win against Bayern Munich in the German DFB Cup.
After a 2-2 draw, Kiel, who are currently in Germany's second division, went on to defeat the German champions in a penalty shootout.
The drones were lined up outside of the stadium and each drone had its flight path pre-programmed by a sophisticated software, to create the illusion of a giant leaping cat.
You can watch the video below.
Holstein Kiel, or the "storks" as they are also known, now face Darmstadt 98 in the round of 16 of the DFB Cup. The match will take place on February 2. Many thanks to Holstein Kiel for sharing these spectacular images with us!
Pictures by Patrick Nawe/Holstein Kiel