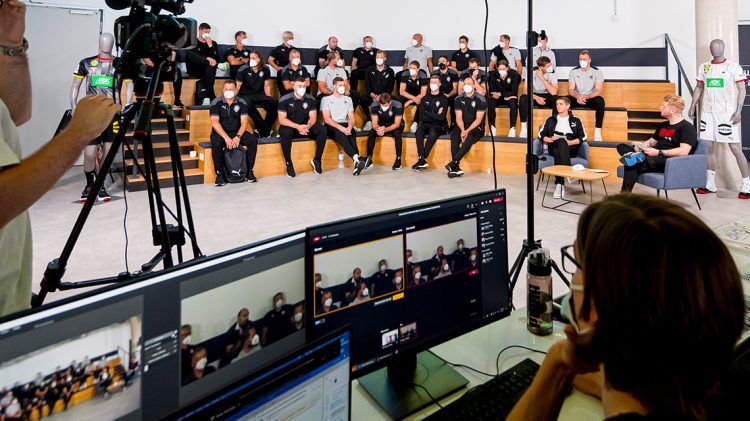 HANDBALL IN
HERZOGENAURACH
The German Men's National Handball Team visits PUMA HQ
July 9, 2021
The German Men's National Handball Team visits PUMA HQ
July 9, 2021
The German 
Men's 
National Handball Team
is one of the most successful in the world, having won three World Championships and two European Championships.
We were pleased to welcome the squad this week at our headquarters and involved them in some on-site activities, such as a virtual question-and-answer session with our employees.

The German Handball Association (DHB) has published a compilation of the highlights of the visit. Take a look!
The handball team is currently completing its training camp in Herzogenaurach in preparation for the upcoming big handball tournament that will begin with the preliminary round against Spain. Part of this preparation is the three-nation tournament in Nuremberg, where the German team will meet Brazil today and Egypt on Sunday. We gave away a selection of tickets to our employees for all matches.
In a virtual question-and-answer session (Q+A), the players took the time to answer the questions of our PUMA employees. In a relaxed atmosphere the squad gave some interesting (and also amusing) insights about their preferred music in the locker room and favorite opponent. PUMA employees also learned about the ´battle cry´ the team is planning to use in the next competitions. After the Q+A, the team worked out in our PUMA gym.
In addition, a throwing wall was set up in front of our canteen for the entertainment of our PUMAs. The best throwers received signed jerseys and balls.
The afternoon ended for the team in our PUMA shops. The players browsed the latest collections to be in style after their matches.
The PUMA family wishes the team lots of fun and success for all future games!
Part of the squad for the big competition are: Paul Drux, Julius Kühn, Timo Kastening, Marcel Schiller, Hendrik Pekeler, Tobias Reichmann, Uwe Gensheimer, Johannes Bitter, Johannes Golla, Finn Lemke, Silvio Heinevetter, Juri Knorr, Steffen Weinhold, Philipp Weber, Kai Häfner, Andreas Wolff & Jannik Kohlbacher.

Coach: Alfred Gislason