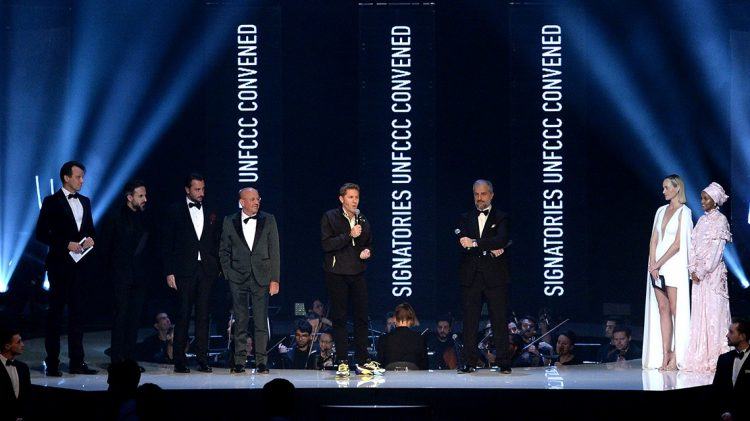 Award for
positive
change
Fashion Industry Charter on Climate Action makes an impact
December 4, 2019
Fashion Industry Charter on Climate Action makes an impact
December 4, 2019
The Fashion Industry Charter on Climate Action, in which PUMA plays a crucial role, has received the "Award for Positive Change" by the British Fashion Council. Our Head of Corporate Sustainability, Stefan Seidel, went to London to pick up this prestigious prize.
The Award for Positive Change recognizes individuals or groups who have made a positive impact on society, the environment or both, and through this award the British Fashion Council wants to promote a more sustainable future for all.
PUMA plays a leading role in the fashion industry's comprehensive plan to reduce greenhouse gas emissions and avoid the worst effects of climate change. Before the Charter on Climate Action was launched at the UN Climate summit in Katowice, Poland, last year, PUMA led working groups and encouraged industry peers and partner vendors to join the initiative. PUMA chairs the steering committee of the charter and actively participates in five of its seven working groups.
With the Fashion Charter, the industry agreed on a sector-wide plan of action, targeting net-zero emissions by 2050 and the reduction of greenhouse gas emissions by 30 percent by 2030, to keep global warming below 2 degrees compared to pre-industrial levels.
"Signing a charter is the easy part and we're just at the beginning. There is hard work in front of us, the challenge is huge." Stefan Seidel said during his acceptance speech at London's famous Royal Albert Hall. "But we will live up to it and face this challenge."
Since the Charter was launched in 2018, the number of signatories has risen from 42 to more than 120.
Earlier this year, PUMA announced its plan to reduce greenhouse gases by 35% reduction by 2030, a target which was approved by the Science Based Target initiative (SBTi). With a science-based target, PUMA ensures that it reduces greenhouse gas emissions sufficiently by what scientists say is necessary to avoid the most disastrous consequences of rising temperatures.