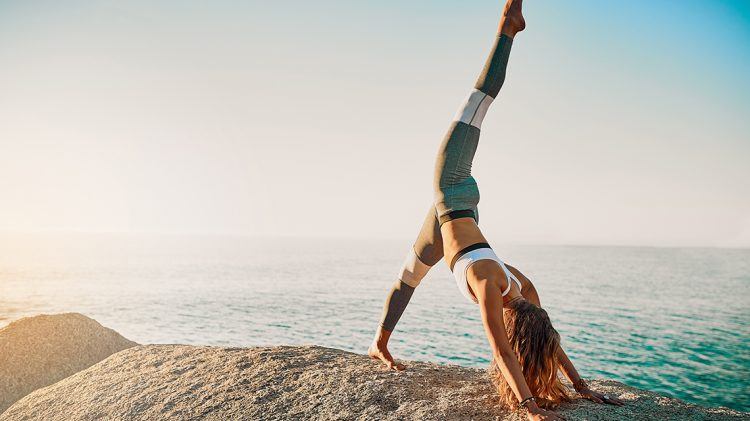 Adventure
Holidays
Stay active while you travel
October 10, 2018
Stay active while you travel
October 10, 2018
We all love a good break, time to get away and reset. That golden time where we get to completely switch off. Over the years I've noticed how important downtime is for your health. Having time off reduces stress and promotes quality sleep resulting in the re-ignition of motivation and energy. However, I have also seen plenty of the opposite – people returning home from holidays where the 'downtime' was primarily spent moving as little as possible and binge drinking. Their complexion looks dull, their zest for life seems non-existent, and their first thought on day one back at work is inevitably "I need a holiday".
Sounds familiar? If that's you, then you might also be familiar with the ensuing consequences. You might fall into some kind of restriction period – no alcohol until your next trip, no carbohydrates, training multiple times per day… Or the complete opposite happens – continued binge-drinking and -eating. Either way, this creates a constant stress cycle where you feel burned out and fatigued whether on holidays or not. No fun, really.
This all-or-nothing approach is much more effort, both physically and mentally. Maintenance of health and fitness is much easier than this yo-yo approach. The key is in maintaining a few major habits while on holidays. Basing your holiday around an active adventure is a great way to ensure you're not exhausted when you get back home. Even if this sounds contradictory, our bodies are made to move and without the stress of everyday life, an active holiday can fill you with energy that sitting by the pool never will. Keeping active can also serve as damage control for the excess food and liquid calories that are often consumed on trips away.
Tailoring a holiday to fit around an active adventure works on three fronts: it gives you a goal to train towards, it keeps you fit while you're away and has you come home with a sense of accomplishment. So if you're looking for inspiration, check out my favourite go-to active holiday ideas.
Cycle touring:Cycle tours run through the French Alps, in Peru, The Baltics, Iran, across Jordan and throughout Bali. They are a great way to travel because you can cover so much ground in such a short time. Cycle touring is low impact and therefore a great option for people with joint sensitivity.
Cruise along the Danube
This trail travels through Austria, Slovakia and Hungary covering about 270km and can be completed in 6-8 days. It is an easy-going cycle passing through beautiful towns steeped in history.
New Zealand Cycle Trails
New Zealand boasts 2,500km of trails that wind through the mountains, divided into 23 of the Great Trails. They range from easy to hard-core off-road mountain biking trails.
Retreats:Retreats are the current fitness and travel craze. From spiritual yoga experiences to hard-core CrossFit camps, from detox wellness retreats to active fitness escapes, thousands of retreats are being offered worldwide. Retreats can act as an effective way to significantly change your health and fitness in a short period of time.
Hiking: A hiking holiday is the perfect trip if you want to go on digital detox, slow down and reconnect with yourself. The benefits of being in nature mixed with the physical challenge means you can return home feeling recharged and energised.
Yosemite National Park, California.
YNP offers endless walk options for beginners to advanced hikers that boast stunning 360 degree views.
The Overland Track, Tasmania.
This iconic 65km, 6-day trek is a 'must-do' for those looking for a long-distance bushwalking experience. For those seeking a challenge, you can carry all your gear and food, sleep in tents under the stars or opt for a fully catered walking holiday in the luxury huts.
Hit the gym: Whether it's hitting up a sweaty group fitness session at Barry's Bootcamp in NYC or F45 in Melbourne, or heading to a local gym with basic facilities, making time to keep your workout routine in place while travelling will help you maintain your strength and fitness. Unlike events or tours, gym sessions are flexible and not date-specific, putting your holiday activities in focus. Your workouts function to keep you feeling energised and sleeping well, making it easier to get back into training on your return.
Race: Building a holiday around a race can be really fulfilling. It combines a sense of achievement with post-race bliss and holiday recovery time. You can race through cities, deserts, mountains and beaches. Whether it means tackling the challenge of dusty trails or hitting the pavement, many travel companies now recognise the growing market for Race Holidays. There are endless options for a running holiday, from the Great Wall of China to the Australian Outback and from Reykjavik to Disney World. The world is your oyster when planning a race-based holiday.
The NYC Marathon, New York.
The largest marathon in the world, seeing over 50,000 finishers, it is certainly a special event to be part of. The atmosphere is electric and the crowds of people cheering you on are unimaginable.
Ultra Trail Cape Town, South Africa.
The UTCT offers race options of 100km, 65km, 35km and 21km. The trails run across the mountains in steep climbs and descents around the Cape Town peninsula.