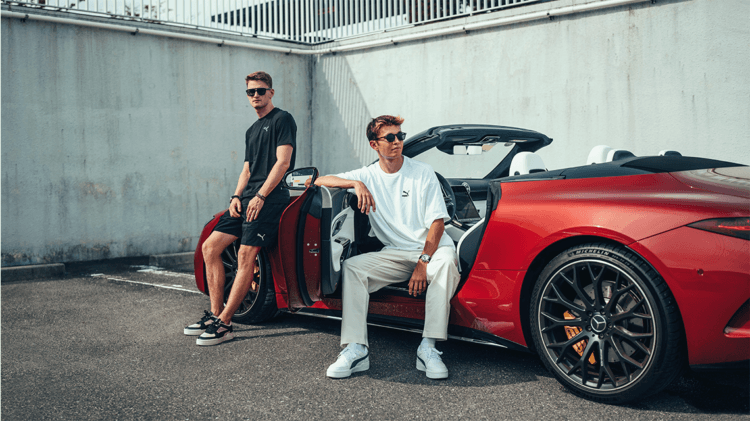 PUMA x Williams Racing
A FOREVER.FASTER. Partnership for the Future
October 11, 2023
A FOREVER.FASTER. Partnership for the Future
October 11, 2023
We are thrilled to announce that we have officially
joined forces with Williams Racing

in a

multi-year global partnership

that's set to take the track by storm. We will provide the Formula 1 team with

official team kits, racewear for the drivers

, and manufacture and distribute

replica apparel and accessories

.
At PUMA, we've always had a need for speed, with our rich history in motorsport that spans over two decades. Williams Racing, a powerhouse in the world of motorsport with 16 FIA Formula 1 World Championship titles, 114 race wins, and 128 podium finishes, shares our passion and vision for the future. Together, we're racing on a track filled with excitement and innovation.
"We are excited to start this new collaboration which is a perfect fit for PUMA with Williams Racing long-lasting and successful legacy in Formula One. The iconic and prestigious attitude of Williams Racing supports and fosters PUMA's visibility and approach to be the number one sports brand in Motorsport. We will supply the best standards of race gear and teamwear to the drivers and team and together with our subsidiary stichd we will offer replica and fanwear to the avid Williams Racing fans, consumers and Motorsport enthusiasts from 2024 onwards."
Our commitment to performance and style extends beyond the track. Our subsidiary, stichd, is joining the alliance and will leverage its global rights to design, produce, and distribute a range of Williams Racing replica team kits, special edition team apparel and other Williams inspired items for fans of all ages. Whether you're trackside at a race or browsing the racks at your local PUMA store, you'll find Williams Racing replica apparel and accessories that perfectly blend the spirit of Williams Racing with the comfort and quality from PUMA.
"Williams Racing is honoured to welcome PUMA as an official partner. PUMA's dedication to excellence and performance in motorsport perfectly complements our team's values. We look forward to bringing the thrill of Formula 1 closer to fans worldwide through an exciting new range of apparel and accessories from 2024 and beyond."
With this exciting partnership, we aspire to not just enhance the Williams Racing experience; we're also inspiring a new generation of motorsport enthusiasts and spreading the love for motorsport to fans worldwide.
So, gear up, get ready, and stay tuned as PUMA and Williams Racing accelerate towards a
FOREVER.FASTER. future

filled with speed, style, and racing excellence 🔥.