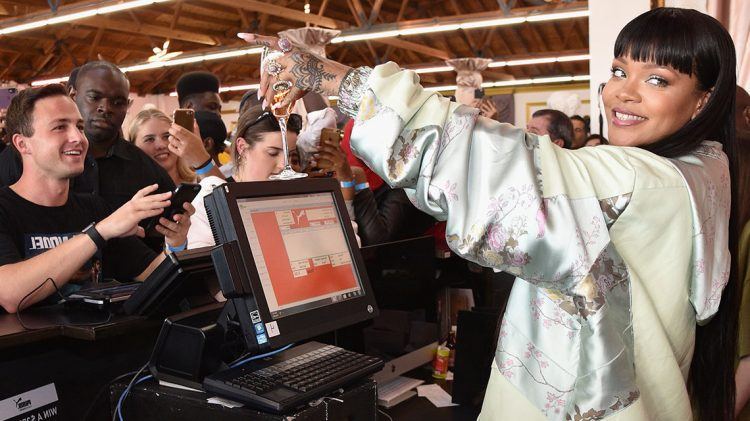 Even Hotter
Than Cakes
When the Retail Counter turns into a Stage
April 24, 2017
When the Retail Counter turns into a Stage
April 24, 2017
Staff costs might have gone up tremendously in the Fenty by PUMA pop up store in Los Angeles that opened last week.
On the first day, the retail staff got surprise helping hands from Rihanna herself.
The pop star and fashion icon spent one and a half hours behind the counter, cashing in on the sales of her own Spring/ Summer 17 collection that was exclusively featured in the store. Around 200 customers, including celebrities such as model Hailey Baldwin and actor Jackie Long, were attended to by Rihanna and lucky enough to get personal signings on the shoes they bought.
The collection that comes in a gym-meets-Marie Antoinette style comprises a delicate color palette, luxurious fabrics, intricate ruffles and pleating, and playful bows and ties. Rihanna stayed true to PUMA's sport heritage by reimagining and transforming traditional track suits, boxing robes, tennis dresses and polos. The collection continues to play with exaggerated and oversized shapes, while soft pinks, lavenders, and nudes compliment and contrast hard, edgy, sporty looks in olive and rich brown.
You can see where Rihanna gets her inspirations from. I think that's just so well thought out and so beautifully well done, and comfortable, and sexy. It's just such an amazing mixture of things. It's what makes her who she is and also what she does with her clothes as well. It's really brilliant, the things she does.
The Creeper Frenzy Continues
The store, that was hosted for two days in a warehouse space just off Santa Monica Boulevard in Hollywood, also featured the latest drops of the famous Creeper, that were already sold out in most PUMA ecom stores only days after its release on April 7. This time, the footwear style, whose success is based on the mix of the PUMA classic Suede upper and a punky creeper sole, has come in a white leather upper with a classic black PUMA Formstripe and a black cracked leather look.
Rihanna is so good at so many different things and - you know - then she starts this, and she's genius at it, too. And incredibly successful. I think she represents the voice of a generation and she understands them very well and what they want. She's thoughtful in that way. I think that she has a style of her own, but she connects with people very strongly and I think her collection shows that.