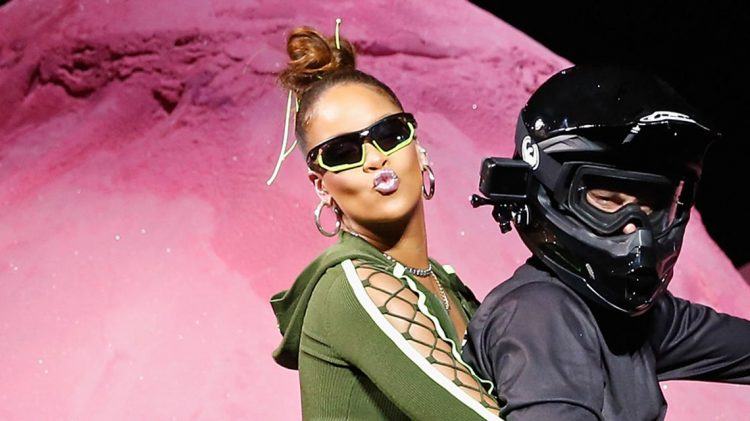 Beach Chic and
Motorsport
Sexy
SS 18 FENTY PUMA by RIHANNA mixes Motocross and Beach Wear
September 20, 2017
SS 18 FENTY PUMA by RIHANNA mixes Motocross and Beach Wear
September 20, 2017
There is no one who can do it like her: Fusing sports and luxury.
Once again, Rihanna's FENTY PUMA by RIHANNA collection has made waves when it featured at the New York Fashion Week in September.
Mountains of pink sand served as the backdrop in the majestic Park Avenue Armory, a palace-like venue that is dedicated to supporting unconventional works in the visual and performing arts at New York's Upper East Side. The agenda was impressively set by flying motocross riders doing flips over the pink landscape, highlighting the mix of motocross and beach wear of what is Rihanna's fourth collaborative collection with PUMA.
Paying homage to PUMA's history in motorsport, Rihanna transformed classic performance racing gear into runway-ready looks, playing with tech materials such as lightweight leathers, nylon and air tech mesh. The beach glamour came from neoprene minidresses, high-heel flip flops, curve- hugging mono-kinis and body confident bikinis, perfect for streetwear and pool parties.
"This collection is a mix between two worlds: motocross and surf," said Rihanna. "It was definitely a challenge making this collection, but I am always up for a challenge and we really wanted to make something that was completely different from anything we've ever done with PUMA."
Always open to newness, our CEO Bjørn Gulden appreciated the collection's uniqueness: "I think the two last shows have been fantastic. I also think that now there are a lot of commercial pieces and they're very directional. And, for us who have a long history in motorsports, I think this collection will be very, very good, and a little bit PUMA unique."
Bring The Heat!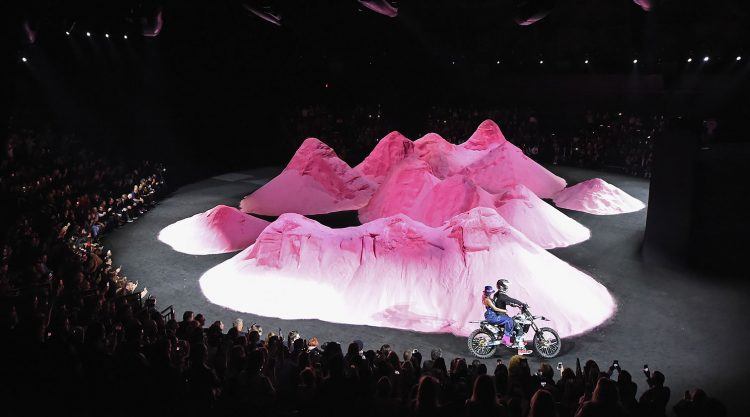 As usual, Rihanna continues to play with oversized shapes paired with sexy body-con styles. The classic Track Suit is updated with a surf-inspired twist with neon bungee cords and super lightweight rubber coated leather.
Swimwear pieces pair nicely with summer apparel must-have's like Terry Toweling hoodies, oversized graphic sweatshirts, Basketball and Booty shorts. The neon hits, wet-looked gel prints, wetsuit pullers and rubber patch details throughout the collection are a nod to throwback surf and extreme watersport culture.
"Well, we really did a lot of cool leather pieces this time that we have never really ventured that deep before… like the boots. You don't think about PUMA or even any sports brand in a thigh-high boot, so I think that will be really interesting for the consumer to have a piece of", Rihanna said.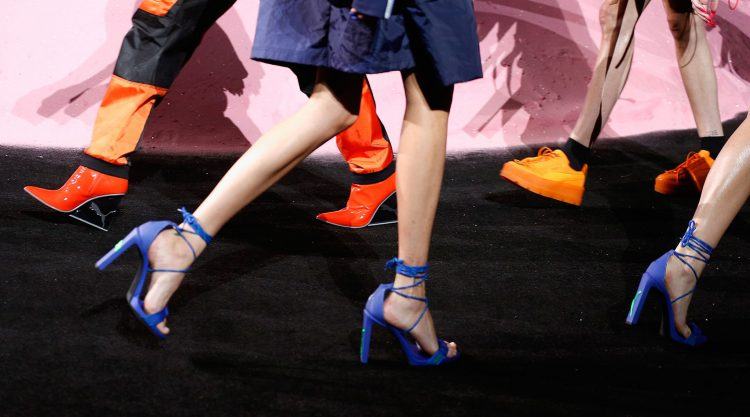 Not to be missed is, of course, The Creeper, that got a makeover with neoprene materials, gravity-defying translucent stacked soles and bungee cord laces. If Creeper fans do not want to wait until spring next year, Rihanna's got something in stock for them: "There's going to be a new drop for the Back to School collection, in the fall, starting really soon in a couple of weeks. I know my fans are really looking forward to that, they've been posting about it and talking about it and just waiting for that moment, so I am looking forward to that for them as well."
The FENTY PUMA by RIHANNA Spring/Summer '18 collection will launch at lifestyle and fashion retailers worldwide in March 2018.
Photos by Bryan Bedder/Getty Images