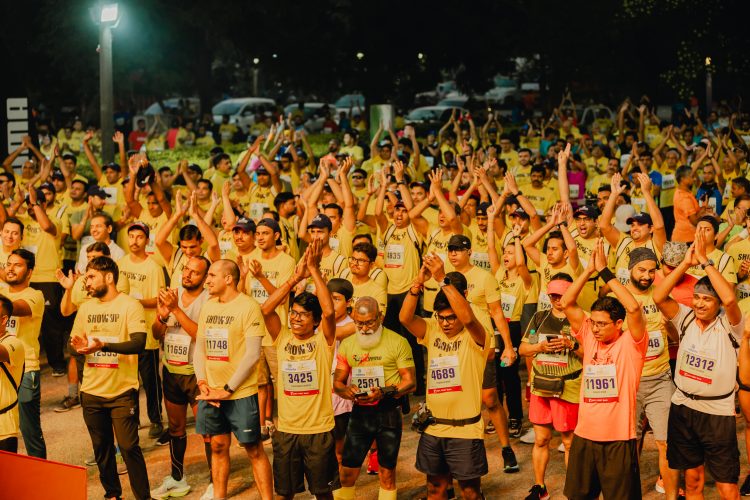 Running & Training
Feel
The
Music
PUMA India Creates a Real-Time Musical Anthem with the Sounds of Runners at the Vedanta Delhi Half-Marathon
October 31, 2022
PUMA India Creates a Real-Time Musical Anthem with the Sounds of Runners at the Vedanta Delhi Half-Marathon
October 31, 2022
Early morning on October 16th, a crowd of runners made their way through New Delhi at the PUMA sponsored Vedanta Delhi Half-Marathon. The sounds of their stomping feet were especially powerful that morning, or you could even say, musical! With the sounds of thousands of runners, PUMA India co-created

a special musical anthem

in real-time and 
turned the half-marathon into a whole new experience. 🥁🎉
Using portable USB audio interface devices to collect the sounds of feet stomping and the clapping and cheering of thousands of runners, the final anthem was produced in just 5 hours! PUMA Athlete and sprinter Dutee Chand also contributed to the sounds. The sounds were turned into a 60 second anthem and it was released to the runners at the end of the half-marathon for them to listen to. And what an inspirational tune it is! Indian rapper Rebel 7 featured on the anthem, delivering his lyrics in Hindi. They translate to:
"C'mon run now. Fasten those laces now. Take a little breath now. Cheetah, c'mon run now!"
You can listen to the anthem here!
After a two-year hiatus because of the pandemic, the Vedanta Delhi half-marathon made a strong comeback as an extremely popular event. Creating an all-new and exhilarating experience, we engaged athletes and consumers by creating a new way to experience sport. Many PUMA India employees also participated in and completed the half-marathon! Participating runners also received t-shirts and special finishers t-shirts were given to the top 500 men and women. We definitely made it a race to remember!
Way to go everyone! And congratulations to all of you who ran the half-marathon.💪🏻