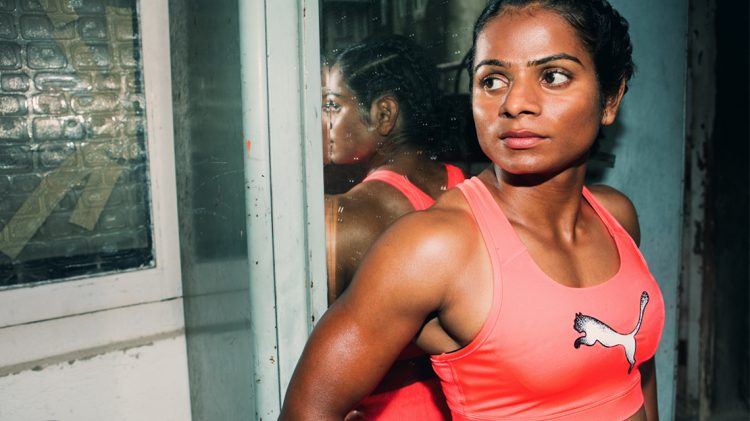 SHE MOVES US
Out
and
proud
Interview with PUMA track & field athlete Dutee Chand about her coming out
June 1, 2021
Interview with PUMA track & field athlete Dutee Chand about her coming out
June 1, 2021
Dutee Chand is the first Indian athlete to win gold in the 100m event, clocking at 11.32 seconds, at the World University Games in Naples. She is also the first one that openly come out as a member of the LGBTQ+ community. In 2019, Dutee Chand spoke openly about her same-sex relationship. With CATch Up she talked about the importance of this step, not only for her own life but also for the LGBTQ+ community in India.
Public discussion of homosexuality in India has often been inhibited by the fact that sexuality in any form is rarely discussed openly. In recent years, however, attitudes towards homosexuality have shifted. In particular, there have been more depictions and discussions of homosexuality in the Indian media. Several organizations have expressed support for decriminalizing homosexuality in India, and pushed for tolerance and social equality for lesbian, gay, bisexual, transgender, queer people, and others with marginalized identities. Also PUMA athlete Dutee Chand played here an important role.
Dutee, since you came out in 2019, have you noticed any progress in the de- stigmatization of same-sex relationships in your community?
Dutee: The initial reaction towards my sexuality was not positive when I came out. But people eventually came around and appreciated my honesty and I have been receiving immense support. That has been a great relief for me. As of now I am no longer in hiding or in the fear of judgement and this has helped my training a lot too. As a country we have come a long way. India has made significant strides in normalizing same sex relationships and people too we have become more accepting of others. Though people's mindsets have evolved, there's still scope for more acceptance. I am glad that a few brands like PUMA have also come out in the support of the community. My association with PUMA reinforces my belief that people do understand that there is more to me as an athlete.
Being the first Indian athlete to openly come out as a member of the LGBTQ+ community must have been tough?
Dutee: I have never hidden my personal life from anyone. There is no pressure on me at the moment because of my personal life especially since I have come out of the closet. After speaking up, a lot of people have shown support and appreciated my efforts and that really makes me feel good. For me, it is about fearless self-expression, being confident and proud of the choices I have made in life. If it wasn't for that I wouldn't be where I'm today.
View this post on Instagram
Do you think people need to be more aware of the prejudice and difficulties people of the LGBTQ+ community go through?
Dutee: I think we should not judge people and accept them as they are. We need to take pride in our diversity and that is what we should practice. Through my association with PUMA, I want to set an example for the younger generations that your personal choices doesn't and shouldn't exclude you from playing sports, being an athlete or achieving your dreams.
Who are some people that you think are doing genuine and effective work to further the rights of queer communities, in India or internationally?
Dutee: I really value and appreciate Menaka Guruswamy and Arundhati Katju's contribution in spearheading the historic judgement of decriminalization of Section 377 in India. Their relentless efforts to fight against the discrimination and violence faced by the LGBTQ+ community in India was a ray of hope for many of us. It's because of them that the Indian LGBTQ+ community can now openly come out without any fear.
What is your message to the LGBTQ+ community?
Dutee: Pride to me means being confident and proud of the choices I have made in life. If it wasn't for that, I wouldn't be where I'm today.  I'm glad that my story is an inspiration for millions in the country. I have always tried to live life on my terms. However, at times society's pressure to conform to its standards can be suffocating and self- acceptance can get hard, but there's always support whenever you need it. Be proud and confident of the choices you make in life and most of all, stay strong and fearless.