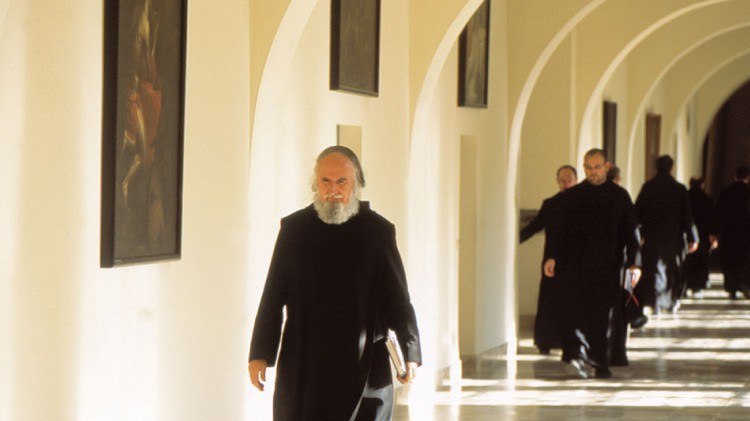 "I'm off the Grid"
Ora et labora: a PR manager at the Benedictine abbey
November 9, 2015
Ora et labora: a PR manager at the Benedictine abbey
November 9, 2015
By Ulf Santjer
It's 4:30 a.m. in Muensterschwarzach near Wuerzburg, Germany, as my alarm goes off. Hallelujah!
What an ungodly hour to get up! It's still dark outside, the moon is shining in the heavens, and the Benedictine abbey is swathed in silence. I'm not on my way to a business meeting; I'm tiptoeing to a church service known as matins in the time-honored abbey church. No radio, no TV, no interviews, and no chance to check emails – "prayers, not phones" is the motto of this one-week course I am taking with the Benedictines called "Time in the Abbey." For seven days I will live according to the rhythm of "ora et labora" (prayer and work), the 1,500 year-old canon of St. Benedict of Nursia, the monk who founded the Benedictines. The goals: Experiencing total deceleration. Being in the here and now instead of thinking about everything that has to be done by tomorrow. Experiencing communication in a totally new way. I will be secluded in an abbey. "I'm off the grid!" is my personal motto for the time-out I've chosen to spend here in the abbey.
Here they come now, the first monks. The number one choice of footwear appears to be Birkenstock, and I realize I'm still thinking in terms of name brands. The first order of business is the 5:05 a.m. choral prayer, also known as the monks' pulpit. The atmosphere is almost meditative, and is very relaxing. My head is clearing. And then there is silence, absolute stillness.
Working in the Abbey
After the Eucharist mass it's time for breakfast in the sparsely furnished refectory, the monks' dining room. Well-fueled, it's time for everyone to go to work in one of the abbey's 35 businesses. From the bakery and the bookstore to the biogas facility that generates energy from manure, the businesses represent all walks of life.
The bells in the church tower ring, it's 8:00 a.m. The in-house print shop, Benedict Press, in which I will be working during my week at the abbey, already hums with the sound of monks and employees working together as a team. The first Christmas calendars have been printed and need to be assembled.
The Wuerzburg Chamber of Commerce is expecting its delivery of notebooks. "There is nothing wrong with money in and of itself, even Jesus had a cash register," says Anselm Gruen, Benedictine padre and cellerar of the abbey, explaining the market economy view held by the Benedictines which is part of their philosophy of self-sufficiency.
Poverty is an inner stance, measurable not by your income, but rather by your inner freedom in relation to all things. Thus, riches are not negative in and of themselves, just one's dependency on them.
The Benedictine
abbey in
Muensterschwarzach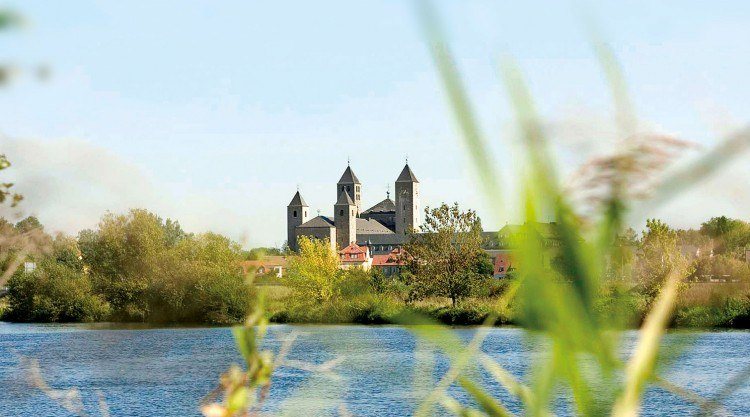 Internal Communication
After mid-day prayers, I learn about the special significance of internal communication. This is especially evident during meals, as they are eaten by the monks in silence framed by two short prayers at the table. Respect and appreciation also applies to mealtimes, because the silence leads me to look not only at my own plate, but also at that of my neighbor. When you can't say "Please pass me the potatoes", you quickly get used to proactively making sure that all the brothers have the food and drinks they need. Practical brotherly love à la Benedict – the way to a man's heart is through his stomach – without using many words.
Silence at the table is just the warm-up for the Great Silence (magna silentium) that sets in after the daily chores and evening prayers are finished. According to old Benedictine Rule, when you leave the church for the last time each day, just before the evening news begins, you are released to the silence of the night. What at first seems like the maximum penalty turns out to be a key component of deceleration. There is no going out for a drink with friends, no going to the movies, no small talk. Nothing but silence. And suddenly I've got valuable time for myself. I flip through the Psalms, marking passages and thinking about the day. Then I feel it, the moment when body and soul find peace. I think about something Father Anselm said: "Searching for God means thinking things through. What do I really want? What am I searching for in my work, in my prayers, in friendship?" Anselm Gruen answered his own question, "Searching for God means taking a good look through your work and through your friendships and getting to the bottom of things."
9:30 p.m. After the Great Silence there's the great tiredness; getting up that early has its consequences. The structure of Benedictine days requires sleep after a long day. It's very quiet in the abbey. After my week here, I think about everything I have experienced and make notes in my abbey journal. What remains? In addition to an introduction to Gregorian chants, choral prayers, spiritual lectures and lots of good conversations and discussions, there was plenty of time for quiet reflection and to absorb the insight that an abbey can offer a fascinating new perspective for life, work and communication. It's not for nothing that alternating between prayer and work as a daily formula for a recuperative and centering change between acceleration and deceleration has been successful for over 1,500 years. And today? Saint Benedict would tell his Facebook fans to apply gas and brakes in a healthy combination. What about the communication in the abbey? Speech is silver, silence is golden is how the saying goes. To a public relations manager, this is a horribly one-dimensional view of things, but it acquired a new significance for me when I was in the Benedictine Abbey Muensterschwarzach.
"It was really a great experience, but God should rethink getting up at 4:30 a.m.," sighs a colleague. It sounds like a quick prayer.