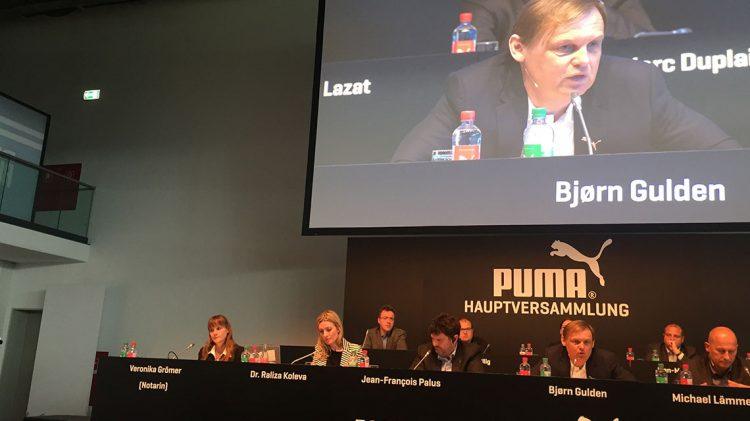 "The Results
are very impressive
indeed!"
Happy Shareholders with little to moan about
April 13, 2017
Happy Shareholders with little to moan about
April 13, 2017
It was a rare sight: Happy shareholders that had very little to moan about.
PUMA CEO Bjørn Gulden and his team received a lot of praise at the company's Annual General Meeting on Wednesday in Herzogenaurach. A sales growth of 10 percent currency adjusted and net earnings that had improved by almost 70 percent in 2016 as well as a share price that had gone up by 80 percent in the last year, reaching 347 Euros – all of that made PUMA's shareholders incredibly content with the management's work.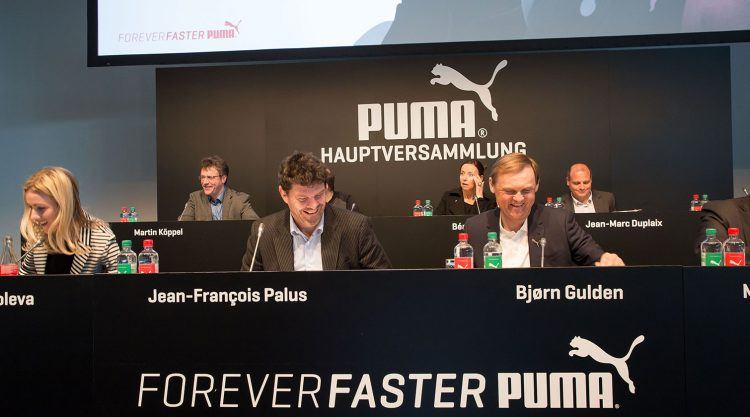 Roland Klose, a shareholder representative from DSW (German Protection Association for Shareholders) said: "I am very thrilled to see how you managed to achieve such results, Mr. Gulden. I had doubts that the combination of Sports and Lifestyle would be successful, including the cooperation with Rihanna, but the company is on an excellent way now."
Norbert Jäger from SDK (Schutzgesellschaft für Kapitalanleger – Protection Association for Capital Investors) sang the same tune: "More than three years later, Bjørn Gulden has successfully achieved the turnaround of PUMA. The goal of being the fastest Sports Brand in the world has not been completely reached, but PUMA is on a very good path. The results of 2016 are very impressive indeed and this morning's news just underline that this will continue."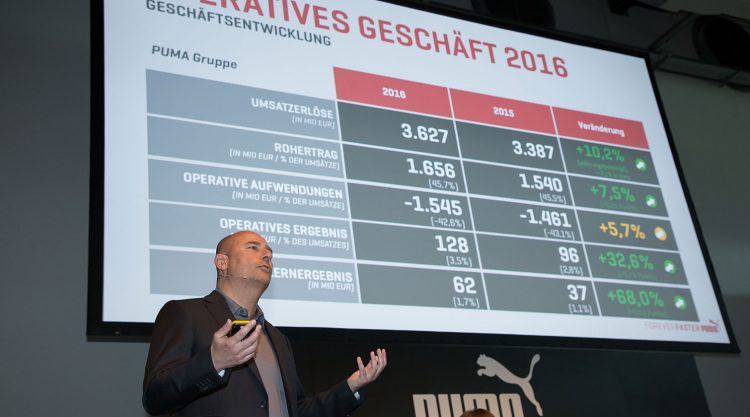 Prior to the meeting, we had issued our preliminary results for the first quarter of this year to inform the public that they were much better than we had expected. From January to end of March 2017, we generated for the first time ever quarterly sales above 1 billion Euros. They increased by 15 percent currency adjusted to 1,005 billion Euros, while the operating result, called EBIT (earnings before interest and tax) jumped by around 70 percent to approximately 70 million Euros. Due to this extremely positive development in the first three months of the year, we raised our expectations for the full year. We are now anticipating that our sales will improve at a low double-digit percentage rate, while EBIT is expected to come in between 185 million Euros and 200 million Euros, rather than between 170 million and 190 million Euros.
"Our first quarter developed better than expected", said Bjørn. "Thanks to good sell-through to the end consumer, both in our owned and operated retail, and with our key retail partners, our sales have developed above our expectations. This shows that we are on the right path and that we now need to continue to work hard and focused to continue to please our consumers and our retail partners. I want to thank all our employees. We can only achieve good results as a team. I am proud to be part of the PUMA family."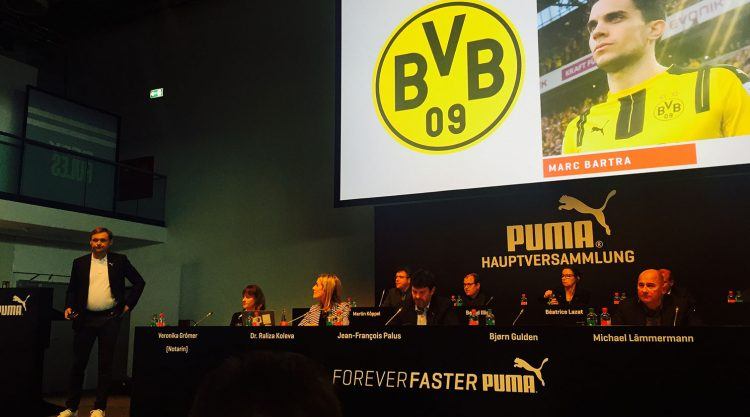 Unfortunately, not all was positive. On Tuesday, the day before, PUMA club Borussia Dortmund became the victim of a shocking attack. "What happened yesterday was so horrible," said Bjørn at the shareholder meeting. "But I do endorse that the club is playing tonight, because those people, who commit such cruel acts, should not be stopping us", he added, referring to the postponed champions league match against AS Monaco, that Dortmund lost 2:3 on Wednesday night.
PUMA's Administrative Board was re-elected and now consists of six members, after François-Henri Pinault and Todd Hymel had not been up for re-election. Six members, amongst them two employee representatives, are sufficient for an effective and flexible steering of PUMA and it also avoids an unnecessary cumbersome decision-making process.
The last six years have shown that a smaller board aligns better with our company's size and it also enables cost savings. Thore Ohlsson has now taken up Pinault's Deputy Chairman position, while Jean-François Palus, Group Managing Director Kering, remains Chairman of the Administrative Board.
Palus also confirmed Kering's support for PUMA. "Our priority is to support PUMA and we will continue to do that."