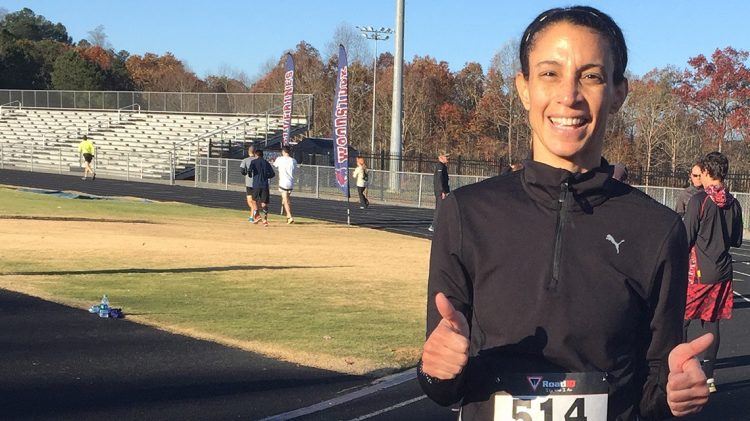 CATch up Meet up
"My biggest
achievement is
my two daugthers"
Get to know ... Karin Baust
October 31, 2017
Get to know ... Karin Baust
October 31, 2017
She believes in perfect careers and hers might be one.
Karin Baust, who loves to run, has been able to turn her passion into a job: Since 2013, the American has been heading up PUMA's Running & Training business.
She has brought a vast industry experience to the company, after she had worked for Macy's Department Store, Reebok and Nike. Ah, yes. And she worked as a business consultant right after university where she had studied Economics.
Her keys to success? It could be the focus on running and her family, that both help her to keep a healthy balance in her life.
Read on what else it is that matters to her.
You are on your own in a city you do not know. How do you spend your evening?
I would go for a run (running is a great way to see and experience a new city), then have a quiet dinner with a good glass of wine and go to bed early.
What or who do you find embarrassing?
I don't embarrass easily! I love being silly and having people around me who don't take themselves too seriously either.
What does success mean for you?
Making a positive impact in the lives of my children and loved ones while contributing positively at work.
What do you appreciate most about yourself?
My determination and energy!
Your favourite pastime?
No surprise here – my favorite pastimes are running and being active. Running is a major part of my life and well-being and I am thankful everyday that I am able to incorporate my passion for sport with my job.
Which character from literature can you identify with most?
I'm not a big literature person. I am more inspired by everyday people who find a way to make a difference in people's lives.
What was your biggest achievement?
My biggest achievement is my two daughters, ages 9 and 15.  They are amazing people that I still can't believe I am the mother of!
What was the first PUMA product you have been wearing and when?
The first PUMA product that I wore was a Cabana Racer that I bought for my interview at PUMA. I still have them of course!  I think of them as my lucky charms.
Which book is currently on your bedside table?
To be honest, I usually fall asleep reading email or watching cooking shows on the FOOD network. Pretty boring answer, I know!
What do you appreciate most about other people?
I appreciate authenticity and commitment. I also greatly appreciate people that make sure to balance work and life.
When can you laugh about yourself?
There are too many examples to list them all. However, at the top of the list I would say when I try to do anything IT-related or follow directions to go someplace new (or even places I've been before). I have a TERRIBLE sense of direction!
What are your principles?
I believe that my principles align pretty closely to our company values. Live your life and treat people fairly, honestly, positively and creatively. Maybe I would add focus on family, health and sport.
Which mistakes can you forgive?
I can forgive any mistake made with honest and pure intentions.