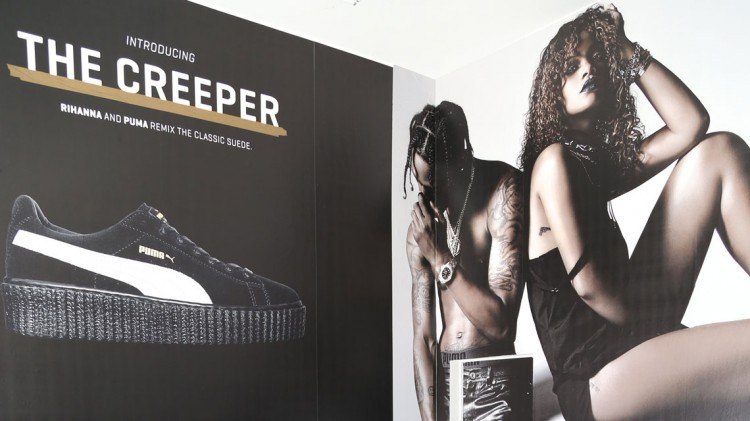 Creeping to success
Fantastic reception of Rihanna's Creeper
November 8, 2015
Fantastic reception of Rihanna's Creeper
November 8, 2015
In September, we launched the first style from the PUMA by Rihanna collection under the FENTY Label, the PUMA Creeper, and just a few hours after the first pairs of the shoe went on sale, it was already sold out. Nothing says 'it's a hit' better than that.
The PUMA Creeper remixes the iconic PUMA Suede with a thick 'creeper' sole inspired by the NYC punk rock scene, and carries Rihanna's signature branding. The pre-sale colour of the Creeper to be released was black and white on PUMA.com on 14th September and sold out within hours. A NYC Pop Up Shop exclusively sold the black and white with two more colours, oatmeal with a gum sole and black with a gum sole from the 15th to the 17th, and on the 18th PUMA partnered with select retailers to launch the black and white colour early. The full worldwide global launch of all three colours took place on 25th September.
The long awaited creeper - I'm not surprised it sold out! Aesthetically looks great with anything […] Worth getting up early to buy,"
Over 5000 pairs were sold globally on that first weekend – with over a thousand pairs selling out on PUMA.com in Europe and North America within a few hours. Stores like our PUMA Store in Paris or Footlocker Europe also sold their complete stock of the shoe, Naked in Copenhagen had a line around the corner in the morning and were out of Creepers afterwards, and major sneakerhead store Sneakers N Stuff in Sweden sold out within minutes.
This trend has continued in other parts of the world with strong sellthru rates of the different colours throughout September and the beginning of October, proving that our partnership with Rihanna is poised for long-term success.
Rihanna's own enthusiasm for the Creeper and a new creative campaign featuring her and artist Travi$ Scott, contributed to the successful launch. Prior to the pre-sale date, PUMA sponsored Rihanna's block party during New York Fashion Week and secured a strategic exclusive to VOGUE.com, which was picked up by media around the world. We also launched advertising on billboards and taxis in New York City and LA, had lots of support from social media on Rihanna's and our channels and seeded the Creeper to all the right influencers and press. Fans took to social media by storm, posting their Creepers and showing the world how they wear Rihanna's first shoe with PUMA.
Next up are more colourways that will launch in November, and a continuation of footwear with this sole and further styles creative directed by Rihanna to come out throughout next year. Watch out for what she wears on her feet in the next months for a preview. Have you tried on a pair of PUMA Creepers by Rihanna yet?