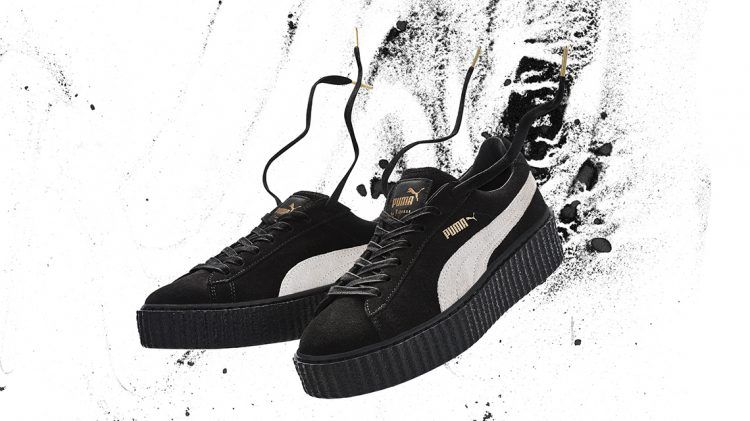 King of Shoes
THE CREEPER IS CROWNED SHOE OF THE YEAR 2016
November 7, 2016
THE CREEPER IS CROWNED SHOE OF THE YEAR 2016
November 7, 2016
There was simply no other choice. Selling out worldwide within mere hours of hitting the stores and continuing to be snapped up as soon as we launched new colourways throughout the year, our
FENTY PUMA by Rihanna Creeper

has demonstrated again and again that it is currently the hottest footwear around. This is why it has now been named "the only choice for the 2016 Shoe of the Year" by Footwear News.

The Creeper, our shoe with the thick soles inspired by the New York City punk scene and designed together with our Brand Ambassador and Women's Creative Director Rihanna, displaces Kanye West's Yeezy sneakers to take the throne at the Footwear News Achievement Awards and making Rihanna the new "Queen of Shoes".
In my wildest dreams, I never would have imagined an honor like Shoe of the Year. It means so much to me to make a mark like this in the shoe and sneaker industry and to have so many people share my love for the Creeper.
Footwear News selects the shoe of the year based on retail figures, feedback from consumers, and overall buzz. Besides being a hit with fans – demonstrated by immediate and website-crashing demand – took Instagram and Facebook by storm since its launch and was seen on the feet of more than one celebrity. Models Cara Delevigne, Gigi and Bella Hadid and Naomi Campbell, to pop star Ariana Grande and actresses Lena Dunham and Jessica Alba are just some of the celebrities who have endorsed the Creeper so far.
We will officially receive the award for the Creeper as part of a special ceremony at the Footwear Achievement Awards, also known as the Shoe Oscars, on 29th November. The annual awards serve to recognize the industry's most outstanding designers, brands, companies and industry legends. The Creeper is only the fourth shoe ever to win the Shoe of the Year title.
Like Stan Smith and Kanye West, Rihanna made a statement shoe that drove global excitement and generated huge sales. Rihanna and Puma pushed the market in a new direction with an overnight sensation that has real legs.