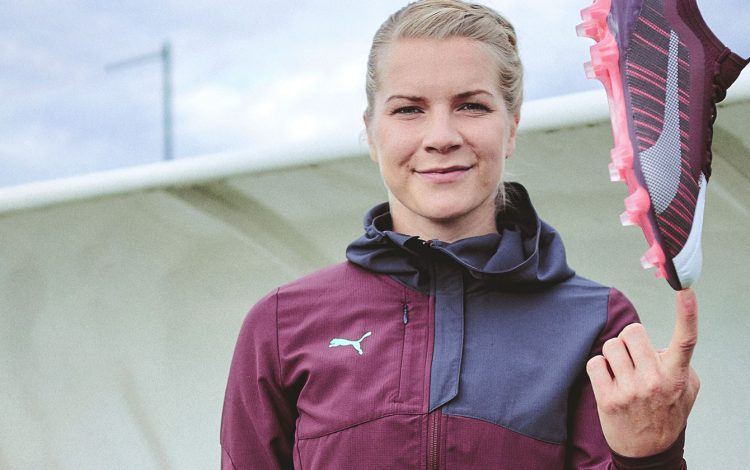 A real
Trailblazer
Ada Hegerberg wins BBC's Women's Footballer of the Year 2019 award
May 23, 2019
Ada Hegerberg wins BBC's Women's Footballer of the Year 2019 award
May 23, 2019
"A
Trailblazer

is a person or persons who is

paving the way

in their particular field for future generations." That's how the term is defined on Wikipedia .
A Trailblazer, that's Ada Hegerberg we'd say! And so do BBC and hundreds of fans around the world: For the second time, our PUMA Football Player has been voted the BBC Women's Footballer of the Year.
The award, presented by the British Broadcasting Cooperation (BBC), comes just a few days after our Trailblazer's Hattrick which brought Lyon the Champions League Title for the fourth time in a row and half a year after Ada received the Ballon d'Or as the first woman ever. "It's a rollercoaster of feelings. It's amazing," Ada told BBC after she received the honor.
Starting April 18, 2019, fans around the world were allowed for their favorite footballer from a five-player selection compiled by a panel of experts such as coaches, players, administrators and journalists.
After having won the title in 2017 for the first time, Ada Hegerberg claimed this year's award ahead of Denmark and Wolfsburg striker Pernille Harder, who finished second in the public vote, and Australia and Chicago Reds Stars forward Sam Kerr coming third. "Sam and Pernille are players who are at the top of their game. Winning again is such a special feeling," Ada said according to BBC.
Why did fans and experts decided on Ada to win the award? Just have a look at her Honours and Stats:
Okay, the Trailblazers part with Ada Hegerberg on Wikipedia might be a little stunt and cannot be found there, but the definition definitely can!
Ada's latest Stats:
53 goals for Lyon in all competitions during the 2017-18 season
Record 15 goals in the Champions League in the 2017-18 season
29 goals in 33 games in the 2018-19 season
16-minute hattrick in the Champions League final against Barcelona in the 2018-19 season